Berkshire cyclists to be fined for riding on the pavement
Cyclists in a suburb of Reading will no longer receive warnings before being issued with a fine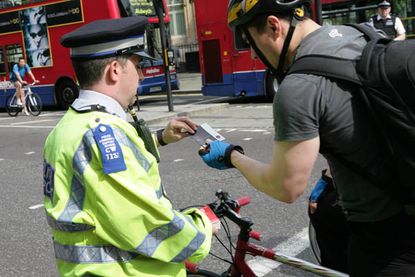 Disobeying cyclists in a Berkshire suburb who ride on the pavement will be charged £30.
Residents in Caversham, a suburb of Reading, have been warned that Thames Valley Police are cracking down on those who do not abide by the Highway Code after a number of complaints to the police force in recent months about the problem.
>>> Jeremy Vine stopped by police for 'speeding' through Hyde Park on his bike
Previously, officers have issued three warnings but the penalty tickets will now be enforced immediately to curb the danger posed to pedestrians by cyclists on pavements.
Neighbourhood Police officers will be predominantly present in the shopping precinct and the Caversham Bridge area. Just two days of patrolling last week before the force began applying the fines on Thursday (January 15) saw 26 people stopped and warned about cycling away from the road.
>>> Van driver hands himself in to police after cyclist attack video goes viral (video)
The scheme appears to have the support of most of the local public but the local council have been told that they need to do more to get people on bikes instead of deterring increased usage.
Thank you for reading 20 articles this month* Join now for unlimited access
Enjoy your first month for just £1 / $1 / €1
*Read 5 free articles per month without a subscription
Join now for unlimited access
Try first month for just £1 / $1 / €1