Jeremy Vine stopped by police for 'speeding' through Hyde Park on his bike
Radio 2 presenter Jeremy Vine is clocked at 16mph in Hyde Park's 5mph zone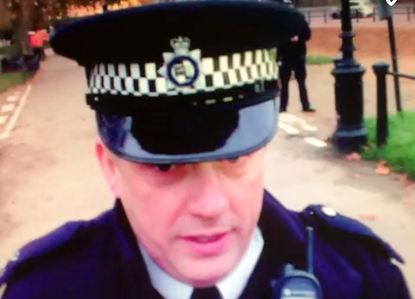 Did you know there is a 5mph speed limit for cyclists in London's Hyde Park? No? Neither did Radio 2 presenter Jeremy Vine who was apprehended by a policeman for riding at 16mph.
The Metropolitan Police officer caught Vine's rapid velocity on a speed gun before pulling him over and showing him the reading.
Vine said that he did not realise there was a 5mph limit in place in the park before promptly apologised for his misdemeanour.
The presenter, who presents the lunchtime phone-in show on Radio 2, took to Twitter to announce his 'telling off', with a video showing the moment he was banged to rights.
While the reaction on Twitter to the incident has been mostly jovial, Vine raised a good point in a conversation with the London Cycling Campaign, questioning whether a speed limit will force riders back onto the congested roads around the park.
Stunt rider Danny MacAskill's latest challenge involved a five-metre loop-the-loop on a barge in the Thames.
U2 singer Bono broke his left arm in six places, fractured his eye socket, shoulder blade and hand, requiring over
OPQS rider will attempt record if he can combine training with his road goals.
Thank you for reading 20 articles this month* Join now for unlimited access
Enjoy your first month for just £1 / $1 / €1
*Read 5 free articles per month without a subscription
Join now for unlimited access
Try first month for just £1 / $1 / €1