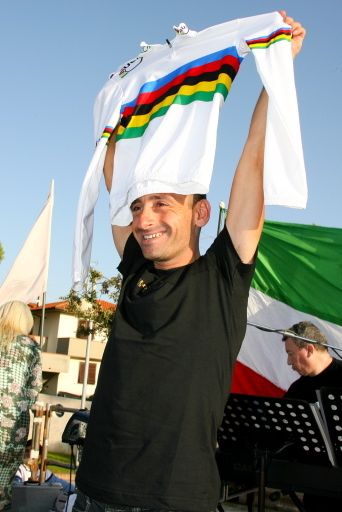 (Image credit: Roberto Nencini)
Paolo Bettini, the 2007 Road Race World Champion, arrived back in Italy yesterday from the World Championships to find large crowds ready to greet him in his hometown of La California.
Over 500 people packed the small square in the town, whilst a big screen showed footage of Bettini's past victories behind him as he waved to his fans.
Bettini successfully defended his road race title on Sunday in Stuttgart, Germany, in a gruelling race where he and his Italian team-mates whittled down the opposite in a war of attrition. Bettini was one of only five to make the lead group, and sprinted to the line to repeat his 2006 victory.
Prior to the race, Bettini had been at the centre of controversy surrounding his alleged involvement with supplying doping products to another rider. He had also failed to sign the UCI's 'commitment to a new cycling' charter, leading the German race organisers to try and prevent him from riding. However, the Stuttgart courts overturned the decision at the last minute and he was free to race.
Paolo Bettini and friends in his hometown of La California, Italy. Photos: Omnia Photo
RELEVANT LINKS
2007 World Championships review
Thank you for reading 20 articles this month* Join now for unlimited access
Enjoy your first month for just £1 / $1 / €1
*Read 5 free articles per month without a subscription
Join now for unlimited access
Try first month for just £1 / $1 / €1