Bibby takes second Tour Series victory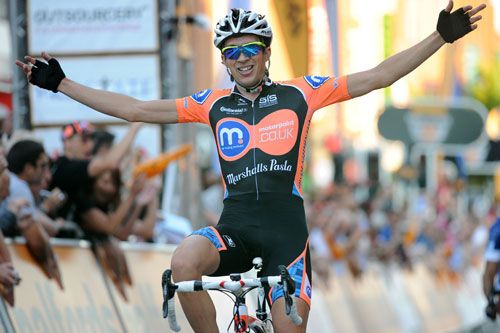 Ian Bibby (Motorpoint Marshalls Pasta) took his second individual win in the ten-round Tour Series on Thursday evening in Stoke on Trent.
Weather conditions were perfect and the warm evening sunshine brought out the crowds to support the action on stage eight, which took place around a technical, undulating 1.2km city centre circuit.
The initial laps saw a nervousness in the peloton with teams watching each other's every move and any attacks were soon snuffed out.
A crash just past the start - finish line after around twenty minutes of racing saw Matt Stephens (Sigma) come off the worst and an ambulance was brought on to the circuit to attend. Fortunately, a shaken Stephens was able to walk to the ambulance which took him away from the circuit.
After the disruption of the crash the field soon got back in to the groove and the pace whipped up once more.
With around twenty minutes of the race to go, it was Bibby that made a strong attack and took Dave Clarke (Pendragon Le Col Colnago) with him for company. The two worked well and developed a 10-second gap on the field.
As the closing laps ticked round, it looked like the pair would be caught by the chasing pack. It was at this point that Scott Thwaites (Endura Racing) was able to bridge the gap to the duo in front. This immediately triggered an injection of pace by the now trio at the head of affairs and their gap on the field pulled out to around twenty seconds within the final two laps.
Bibby struck for home early and comfortably out sprinted Clarke and Thwaites to take victory and a home win for Motorpoint Marshalls Pasta.
The blanket finish by Motorpoint's Elliott, Clancy and McEvoy in the sprint for fourth meant Motorpoint Marshalls Pasta gained the team win on the night and regained the overall lead in the Tour Series standings from Rapha Condor Sharp.
Cycling Weekly managed to grab a few words from Bibby after the presentations: "We changed tactics a bit tonight. In previous rounds we had been following moves, mainly Rapha and Endura and we had not been doing great in the last few rounds, so we changed it tonight," Bibby said.
"Decided to take it to them and attack and let them chase us, so we pretty did that from the start.
"It was going real hard for 10 laps or so, really strung out but then it backed off a bit. I had a bit of a kick and took Dave Clarke with me and it couldn't have worked out much better really. Having Clarke who's not on one of the bigger teams that are close to us like Rapha and Endura made it a clever situation, so I really committed to it and rode real hard.
"It kept coming real close to coming back and Scott Thwaites came across and it must have come to two or three bike lengths but I was pretty much committed to it then. If I'd gone back to the bunch I didn't think my sprint was going to be much use so I did a big turn down the home straight, looked behind me and it had opened up again, so kept it going.
"I thought if I could really commit with the two lads I could have a good chance in the sprint."
RESULTS

Tour Series 2010, round eight: Stoke on Trent

Team
1) Motorpoint - Marshalls Pasta
2) Endura Racing
3) Pendragon Le Col Colnago
4) Rapha - Condor - Sharp
5) CyclePremier.com - Metaltek
6) Sigma Sport - Specialized
7) Team Raleigh
8) Team Corley Cycles
9) Kuota - road.cc
10) Team Ireland
Individual
1) Ian Bibby (Motorpoint - Marshalls Pasta)
2) Scott Thwaites (Endura Racing)
3) Dave Clarke (Pendragon Le Col Colnago)
4) Johnny McEvoy (Motorpoint - Marshalls Pasta)
5) Yanto Barker (Pendragon Le Col Colnago)
The Halfords Tour Series Standings (after eight rounds)
1) Motorpoint - Marshalls Pasta 70pts
2) Rapha - Condor - Sharp 67pts
3) Endura Racing 67pts
4) Sigma Sport - Specialized 50pts
5) Pendragon Le Col Colnago 47pts
6) Team Raleigh 42pts
7) CyclePremier.com - Metaltek 41pts
8) Team Corley Cycles 29pts
9) Kuota - road.cc 18pts
10) Team Ireland 8pts
Boardman Bikes Sprints Competition Results
1) Graham Briggs (Rapha - Condor - Sharp) 12pts
2) Liam Holohan (Team Raleigh) 6pts
3) Dave Clarke (Pendragon Le Col Colnago) 5pts
Boardman Bikes Sprints Competition Standings (after eight rounds)
1) Graham Briggs (Rapha - Condor - Sharp) 55pts
2) Liam Holohan (Team Raleigh) 41pts
3) Kristian House (Rapha - Condor - Sharp) 32pts
Stoke on Trent
Break in action
Stoke race fans
Ian Bibby takes the round win
Motorpoint dominate the sprint for fourth place
Motorpoint regain the lead overall in the 2010 Tour Series
Related links
British race calendar 2010: includes links to reports from all previous rounds of the 2010 Tour Series