Is this your bike? Police seek owner of stolen machine
Sergeant from Harrow Borough Police tweets photos of three bikes recovered recently, asking whether anyone recognises them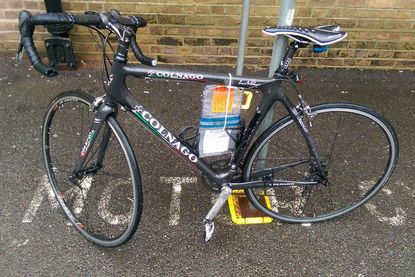 Police in the London Borough of Harrow are searching for the owner or owners of three stolen bikes recovered from a recent house search.
Sergeant Mark Pullen of Harrow Borough Police Crime Squad tweeted photographs of the three bikes on Monday afternoon, appealing for help in tracking down their rightful owner.
>>> Bike thief reveals tricks of the trade in this shockingly candid interview
One of the three models is a carbon-fibre Colnago road bike. There are also hardtail and full suspension Specialized mountain bikes. All are in very good condition and must have been well looked after by their owner.
Sergeant Pullen asks that if anyone recognises the bikes they can private message him via Twitter.
Alternatively, anyone with information can call Crimestoppers in the UK by dialling 101.
Thank you for reading 5 articles this month* Join now for unlimited access
Enjoy your first month for just £1 / $1 / €1
*Read 5 free articles per month without a subscription
Join now for unlimited access
Try first month for just £1 / $1 / €1