Bradley Wiggins: It's a bonus to win world time trial title
Bradley Wiggins says that he will not return to defend the time trial world title in 2015 - Next target is Paris-Roubaix, followed by Hour record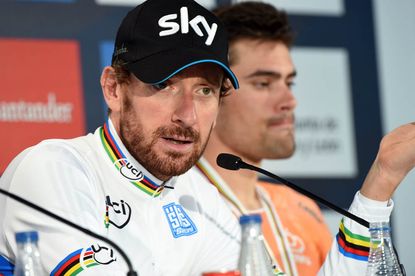 (Image credit: Graham Watson)
Bradley Wiggins succeeded in adding the missing jewel – a World Championship time trial title – to his chest of wins today in Ponferrada, Spain. After Olympic gold medals on the road and track, Worlds track golds and a Tour de France win, it seemed he only lacked a time trial rainbow jersey.
"I could have lived with it had I not won it, but..." Wiggins said. "I always said that after the London Olympics that anything else I got was a bonus, but it's just nice to end the season like this after missing the Tour this year."
Wiggins worked won the Tour of California this year thanks to a stage victory in the time trial. He missed the Tour, but came back for the Commonwealth Games with the Worlds title aim.
Against German Tony Martin, it was a difficult task. 29-year-old Martin won time trials in the Tour de France and Vuelta a España this year, and already has three world titles in his palmarès, including last year's win in Florence by 46 seconds over Wiggins.
"I didn't want time checks until the top of the final climb," Wiggins said. "When I got there, on the last little ramp, they said I was 10 seconds ahead of Tony, and I s**t myself."
Wiggins rode 47.1 kilometres around Ponferrada, in northwest Spain, in 56 minutes and 25 seconds. He was the only rider to average above 50 kilometres an hour, going 50.083, and beat Martin by 26 seconds.
"Like last year in Florence, on the right day, he's unbeatable," Wiggins added. "On certain courses, I can get the best of him. On a course like this, it changes, it really becomes power to weight and how you manage it.
"I worked hard this summer to get my Tour racing weight, 72 kilogrammes. I knew if I could maintain 470 or 480 watts in that final then I knew I could go faster and get the better of him."
Olympics, Tour, Worlds... Wiggins said that he would aim for Paris-Roubaix and the Hour record in 2015 and the Rio Games team pursuit in 2016. When he left the pressroom saying, "I have to do anti-doping and I have a flight to catch," it was his good-bye to the road Worlds. He explained that he would not return for the 2015 Richmond or 2016 Doha Worlds.
"I don't know [how people will remember me.] It's a funny thing. I grew up as such a fan of cycling. Miguel Indurain and Gianni Bugno were my heroes, but I'm inspiring others behind me now. The juniors and under 23 guys, they want selfies, everyone wants selfies now.
"Without realising it, you're up there like Indurain was for me. People remember the performances the most, that's what's important, as for the rest of it, it's for the others to decide. Not everyone likes you, you ought to see the comments on my Instagram sometimes."
More on the 2014 World Championships
Images from the elite men's time trial event at the 2014 Road World Championships, won by Bradley Wiggins
Bradley Wiggins wins the time trial world title in Ponferrada, Spain, beating defending champion Tony Martin by 26 seconds
Live and interactive text coverage of the elite men's time trial from the 2014 Road World Championships in Spain
Thank you for reading 5 articles this month* Join now for unlimited access
Enjoy your first month for just £1 / $1 / €1
*Read 5 free articles per month without a subscription
Join now for unlimited access
Try first month for just £1 / $1 / €1