Brailsford: Froome's test results will not silence all the doubters
With Chris Froome's physiological test results due to be published on December 4, Sir Dave Brailsford doesn't expect to hear the last of the doping allegations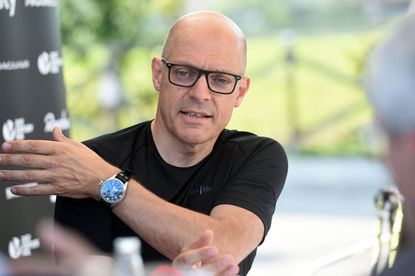 (Image credit: Watson)
Team Sky boss Sir Dave Brailsford doesn't believe that Chris Froome's physiological test results, set to be published on Friday, will be enough to make all of his doubters disappear.
According to Brailsford, who helped mastermind Froome's two Tour de France wins, there will always be people who will question the validity of the Brit's performances, but he sees no harm in Froome releasing his data.
Some critics have also pointed to the fact that Froome's testing was carried out independently, by GlaxoSmithKline in London, rather than by the UCI, but, again, Brailsford is backing his rider's decision to undergo such tests.
"It's not a panacea. It's not going to solve everything, but I can't see the harm in it. You can never stop every single doubter. You can't do that. However, what you can do is try - there's no harm in trying," said Brailsford at a Bloodwise charity event in London, according to the Press Association.
"I think the independence thing is a good thing. And why not? I can't see the negative in it. There's a lot of talk about transparency these days, trying to have a leadership role. He's won the Tour twice, we should make the effort.
"There are opportunities to do what we can to make the unbelievable believable."
Brailsford insisted that he had no part in the testing process, saying he will find out the results along with everyone else when they are published on the Esquire website on December 4.
He added: "I don't know what the results are going to be but I can pretty much bet the results are going to be the physiology of a Tour de France winning champion. We know that."
Thank you for reading 20 articles this month* Join now for unlimited access
Enjoy your first month for just £1 / $1 / €1
*Read 5 free articles per month without a subscription
Join now for unlimited access
Try first month for just £1 / $1 / €1