Brailsford happy as Team Sky comes together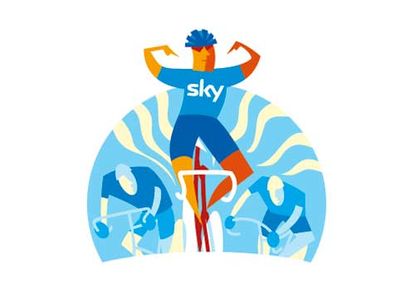 Team Sky's first get together in Manchester is in its third day but so far meetings, presentations, planning and fitting sessions have filled most of the hours spent together.
Team principal Dave Brailsford has been working on the Team Sky project for two years, after the broadcaster first came on board with British Cycling in order to promote grassroots cycling. During those two years Brailsford, Scott Sunderland and Shane Sutton have selected all the staff and riders.
Now they are all working together to create a team that will be competitive for its official debut at Tour Down Under in just 54 days time.
"A lot of people have come together to make this team happen, it's a pleasure to finally get together in Manchester and get things moving," Brailsford told Cycling Weekly.
"We're really happy with the welcome we've been able to give the riders at this first get together and they're really impressed with the steps we've taken. It's a busy time because we're working on laying the foundations so that we can compete at ProTour level from day one."
Brailsford has always insisted that his teams are rider-centric, with the riders the most important piece of any team. The 24 riders currently in Manchester are definitely being spoilt as they collect their kit for the new season. The riders have been given an iPhone and Apple Macbook Pro and taught how to use them. They have also been measured up for their Adidas race clothing, official team suits and Pinarello bikes.
Rider's excitement for the new team can be see in Twitter messages. They are tiny glimpses of what is going on behind the scenes, but indicate Team Sky will be unique. Here's a selection...
John-Lee Augustyn
Awesome life changing stuff happening!!!
www.twitter.com/JLAugustyn
Chris Froome
Absolutely blown away by the first couple days of meetings with Team Sky - this is going to be one kick ass team!!!
Can't give away too much just yet but some very unique and unconventional ideas coming through. Watch this space...
www.twitter.com/cfroome
Greg Henderson
Made it to Manchester. Greeted by sideways cold rain. But... Team Sky is next level. Hands down better than anything I've been with before.
9hrs of meetings yesterday. Today one-on-one meetings with directors and suit, kit and bike fittings. IT session also. Learn my new Macbook.
www.twitter.com/Greghenderson1
Scott Sunderland
Another day of meetings: hopefully they will have the heat working today.
www.twitter.com/triplesmc
Kurt-Asle Arvesen
Meetings all day in Manchester :) Fitting, measuring etc...
www.twitter.com/kaarvesen
Russell Downing
Training starts now for team sky!!!
www.twitter.com/RussDowning
Related links
Sean Yates looks forward to team Sky debut
Team Sky given ProTour licence
Thank you for reading 20 articles this month* Join now for unlimited access
Enjoy your first month for just £1 / $1 / €1
*Read 5 free articles per month without a subscription
Join now for unlimited access
Try first month for just £1 / $1 / €1