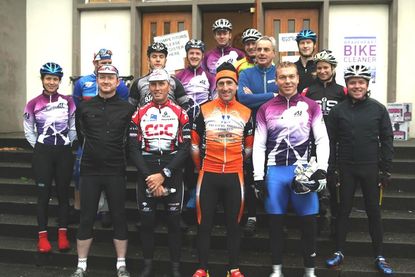 Scotland?s Braveheart cycling Fund end of season ride out and dinner was a raging success. Four hundred riders braved (ha!) properly grim Scottish weather then recovered to enjoy refreshments into the wee hours of Sunday morning.
In between bouts of enthusiastic re-hydration, the 390-strong dinner crowd made generous bids on 40 items in the auction, superbly cajoled by ex-Scottish team manager Allan Hewitt. Before the final tally was, er, tallied, the organisers reckoned over £40,000 had been raised to support Scottish riding talent in the course of the weekend. So much for the myth of tight-fisted Jocks.
The Braveheart rider of the year trophy went to Kate Cullen, winner of the British women?s points championship, ahead of (in alphabetical order) mountain bike junior Ross Creber and Recycling.co.uk?s Evan Oliphant. In fact Oliphant has just signed for DFL, which was worth celebrating in itself. For more gossip on the event and more info on the fund, check out www.braveheartfund.co.uk.
[Photo: Graeme Brown]
Thank you for reading 20 articles this month* Join now for unlimited access
Enjoy your first month for just £1 / $1 / €1
*Read 5 free articles per month without a subscription
Join now for unlimited access
Try first month for just £1 / $1 / €1