Brian Cookson clarifies comment on moving track cycling to Winter Olympics
UCI president Brian Cookson suggests possibility of moving track cycling from summer to Winter Olympic Games if it allows more disciplines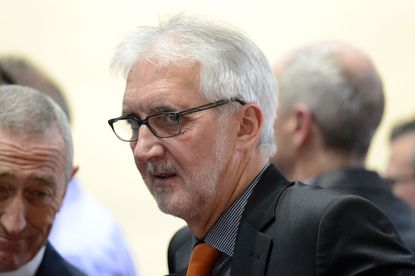 Union Cycliste Internationale (UCI) president Brian Cookson has clarified his recent suggestion that track cycling could be moved to the Winter Olympics to allow the running of more cycling disciplines, saying that it is currently an idea for discussion rather than 'formal UCI policy'.
Cookson was widely quoted on Tuesday as suggesting track cycling should be moved into the Winter Olympics programme as part of the International Olympic Committee's (IOC) 'modernisation' review of the Games, led by IOC president Thomas Bach.
Currently, the summer Games has a packed schedule, which means several well-established cycling disciplines have fallen by the wayside including events such as the individual pursuit and kilometre time trial - effectively, they are running out of space for events.
"If you have a problem with summer Olympics where the whole thing is perceived as over-heated with too many facilities, too many sports, too many competitors and so on, why not look at moving some of the other sports indoors that traditionally take place in the northern hemisphere winter?" said Cookson.
"Why not look at combat sports like judo, or other indoor sports like badminton? You could even say what about putting track cycling in the Winter Olympics?"
In February, Cookson and the UCI suggested that cyclo-cross could be included in the Winter Olympics. Although the discipline traditionally takes place over the winter months, it is seldom run on snow and ice. Indoor events, however, have no such weather-related restrictions and the current UCI Track Cycling World Cup and World Championships take place from November to March.
"President Bach has signalled his appetite for change," said Cookson in February. "So I look forward to a debate about whether cyclo-cross, and indeed other sports practiced in the winter season, should be part of the Winter Olympic Games."
https://twitter.com/BrianCooksonUCI/statuses/448572613657649153
https://twitter.com/BrianCooksonUCI/statuses/448586739586990081
Thank you for reading 20 articles this month* Join now for unlimited access
Enjoy your first month for just £1 / $1 / €1
*Read 5 free articles per month without a subscription
Join now for unlimited access
Try first month for just £1 / $1 / €1