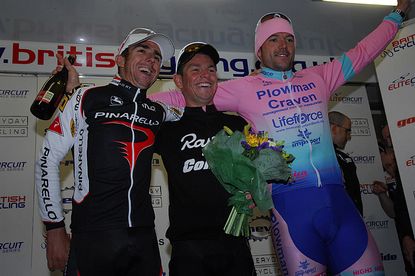 Thursday (June 26) evening saw Otley in West Yorkshire play host to the sixth round of British Cycling Elite Circuit Series, where Graham Briggs (Rapha Condor Recycling) came away with the honours.
The circuit was lined with a mass of umbrellas sheltering the large crowds from the torrential rain which persisted throughout the evening. It did not, however, dampen the racing and there was plenty of attacking, high speed action.
As the final big road event before Sunday's National Road Race Championships at Duncombe Park in North Yorkshire it gave a final chance for legs to be tested. The large field included Ian Stannard (Landbouwkredit), back from his Ninove base in Belgium.
A number of attacks were attempted over the hour of racing which included a two lap escape by Ian Wilkinson (SIS) who was joined by Tom Murray (Pinarello RT). Their move went just after Russell Downing's brief attack had been reeled back by a combination of the ever present Plowman and Rapha riders at the front of affairs.
Pete Williams (Pinarello RT) had one last attempt to make an attack stick with two laps to go but once again the field was back together as the bell sounded for the final lap.
It was Briggs and Russell Downing (Pinarello RT) that nipped off the front of the mass gallop to contest the finish with Briggs just taking the lunge for the line. Tony Gibb took the final podium spot just ahead of the rapidly closing field.
OTLEY CRIT: RESULTS
1. Graham Briggs - Rapha Condor Recycling
2. Russell Downing - Pinarello RT
3. Tony Gibb - Plowman Craven
Malcolm Elliott singing in the rain. Nice brolly Malc!
Nice weather for it
Russell Downing grins and bears it
Graham Briggs on Ian Stannard's wheel
Otley podium: Russell Downing, Graham Briggs, Tony Gibb
All photos by Andy Jones
Thank you for reading 10 articles this month* Join now for unlimited access
Enjoy your first month for just £1 / $1 / €1
*Read 5 free articles per month without a subscription
Join now for unlimited access
Try first month for just £1 / $1 / €1