Britain's Road World Championships medal winners
All of Great Britain's medal winners in the Road Cycling World Championships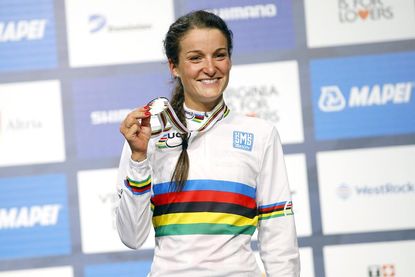 (Image credit: Watson)
Beryl Burton won the women's world title twice in the 1960s before Mandy Jones won on home soil at Goodwood in 1982. Tom Simpson was Britain's first men's world road race champion, winning his rainbow jersey in the Basque Country in 1965.
Dave Marsh won the world road race championship for amateurs in Liverpool in 1922, when British riders won gold, silver and bronze. Graham Webb was amateur road race champion in 1967 - the most astonishing thing being that his victory came on the same day as Burton's win in the women's race
Chris Boardman won the first ever world individual time trial title in Sardinia in 1994 when the UCI introduced the event to the World Championship programme.
Nicole Cooke added to the tally in 2008 by winning the road race, with Emma Pooley taking the time trial in 2010, Mark Cavendish the road race in 2011, Bradley Wiggins winning the time trial title in 2014 and Lizzie Armitstead winning the women's road race in 2015.
>>> From Burton to Armitstead: Britain's road race world champions
Here is a run down of all the British medallists in the World Championships on the road.
Men's road race
GOLD
Tom Simpson, 1965 San Sebastian, Spain
Mark Cavendish, 2011 Copenhagen, Denmark
Men's amateur road race
GOLD
Dave Marsh, 1922 Liverpool, Great Britain
Graham Webb, 1967 Heerlen, Netherlands
SILVER
William Burkill, 1922 Liverpool, Great Britain
Les West, 1966 Adenau, West Germany
BRONZE
Charles Dawey, 1921 Copenhagen, Denmark
Charles Dawey, 1922 Liverpool, Great Britain
Men's under-23 road race
BRONZE
Jonny Bellis, 2007 Stuttgart, Germany
Andy Fenn, 2011 Copenhagen, Denmark
The men's under-23 road race was first run in 1996. Until 1995 the road races were divided into professional and amateur. From 1996 this became elite and under-23
Men's time trial
GOLD
Chris Boardman, 1994 Catania, Italy
David Millar, 2003 Hamilton, Canada - Millar admitted using EPO and was stripped of his title, which was handed to Australia's Michael Rogers
Bradley Wiggins, 2014 Ponferrada, Spain

SILVER
Chris Boardman, 1996 Lugano, Switzerland
David Millar, 2001 Lisbon, Portugal
David Millar, 2010 Geelong, Australia
Bradley Wiggins, 2011 Copenhagen, Denmark
Bradley Wiggins, 2013 Tuscany, Italy
BRONZE
Chris Boardman, 1997 San Sebastian, Spain
Chris Boardman, 1999 Verona, Italy
Junior men's road race
No medals
Junior men's time trial
No medals
Women's road race
GOLD
Beryl Burton, 1960 Leipzig, East Germany
Beryl Burton, 1967 Heerlen, Netherlands
Mandy Jones, 1982 Goodwood, Great Britain
Nicole Cooke, 2008 Varese, Italy
Lizzie Armitstead, 2015 Richmond, USA
SILVER
Beryl Burton, 1961 Douglas, Isle of Man
Bernadette Swinnerton, 1969 Brno, Czechoslovakia
Nicole Cooke, 2005 Madrid, Spain
BRONZE
Mandy Jones, 1980 Sallanches, Great Britain
Nicole Cooke, 2003 Hamilton, Canada
Nicole Cooke, 2006 Salzburg, Austria
Women's time trial
GOLD
Emma Pooley, 2010 Geelong, Australia
BRONZE
Emma Pooley, 2011 Copenhagen, Denmark
Junior women's road race
GOLD
Nicole Cooke, 2000 Plouay, France
Nicole Cooke, 2001 Lisbon, Portugal
Lucy Garner, 2011 Copenhagen, Denmark
Lucy Garner, 2012 Limburg, Netherlands
SILVER
Sally Dawes, 1991 Colorado Springs, USA
Junior women's time trial
GOLD
Nicole Cooke, 2001 Lisbon, PortugalElinor Barker, 2012 Limburg, Netherlands
SILVER
Elinor Barker, 2011 Copenhagen, Denmark
Thank you for reading 20 articles this month* Join now for unlimited access
Enjoy your first month for just £1 / $1 / €1
*Read 5 free articles per month without a subscription
Join now for unlimited access
Try first month for just £1 / $1 / €1