British Cycling Hall of Fame nominees inducted at Gala Dinner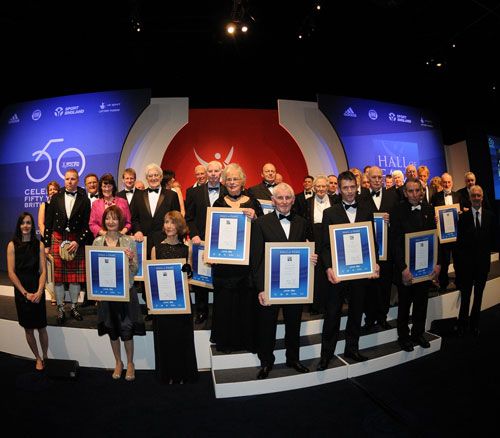 Cycling legends from the past 50 years of the sport were officially inducted into British Cycling's Hall of Fame on Saturday night in Manchester during the organisation's 50th anniversary Gala Dinner.
50 riders, organisers and other leading lights in the world of cycling were included in the ceremony.
Among those inducted were seven-time World Champion Beryl Burton, eight times Tour de France stage winner Barry Hoban and Tom Simpson who died during the 1967 Tour de France while climbing Mont Ventoux.
Those inductees present at the dinner included Chris Boardman, Peter King, Peter Keen, Craig MacLean, Paul Manning, Eileen Grey, Tim Gould and Caroline Alexander.
Sky news presenter Dermot Murnaghan hosted the evening in front of an audience of 700 at Manchester Central.
The Hall of Fame was conceived by British Cycling to celebrate its 50th anniversary. The public were invited to make nominations from all factes of the sport, and a judging panel then selected the final 50. More names will be added in future years.
BRITISH CYCLING HALL OF FAME
Pat Adams
Caroline Alexander
Brian Annable
David Baker
Sid Barras
Stuart Benstead
Chris Boardman MBE
Bill Bradley
Beryl Burton OBE
Keith Butler
Arthur Campbell MBE
Brian Cossavella
Doug Dailey MBE
Tony Doyle MBE
Ian Emmerson OBE
Malcolm Elliott
Benny Foster OBE
Tim Gould
Eileen Gray CBE
Dave Hemsley
Barry Hoban
Dale Holmes
Mandy Jones
Peter Keen OBE
Peter King CBE
Stan Kite
Phil Liggett MBE
Craig Maclean
Paul Manning MBE
John & Doreen Mallinson
Yvonne McGregor MBE
Gerry McDaid
Jason McRoy
Chas Messenger
George Millar
Robert Millar
Graeme Obree
Hugh Porter MBE
Jason Queally MBE
John Rawnsley
Brian Robinson
Alan Rushton
Tom Simpson
Eddie Soens
Colin Sturgess
Dot Tilbury MBE
Graham Webb
Les West
Sean Yates
Tony Yorke OBE
Eileen Gray addresses the audience
Sir Chris Hoy, Chris Boardman, Doug Dailey and British Cycling president, Brian Cookson are interviewed by Sky's Dermot Murnaghan
Sir Chris Hoy
700 people attended the Gala Dinner
Doug Dailey receoves his award from Victoria Pendleton (centre) and Brian Cookson (right)
Related links