'British Tour de France riders' among 150 sportspeople 'doped' by London doctor
Sunday Times investigation reveals claim by British doctor Mark Bonar that he has doped sports stars, including cyclists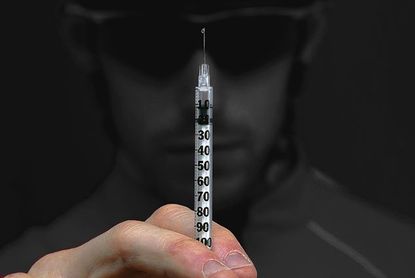 British professional cyclists at the highest level are among 150 sports stars that a London doctor has claimed that he has helped take banned performance-enhancing drugs.
>>> Cyclist named as British 'doping doctor' whistleblower by newspaper
A Sunday Times investigation, published on Sunday (April 3), revealed that Dr Mark Bonar claims to have prescribed banned substances to un-named 'British Tour de France cyclists' as well as premiership footballers, tennis players, a boxing champion and a cricketer. He claims his clients come from Britain and abroad.
Bonar was filmed making the claims to a Sunday Times undercover reporter, who posed as an 'aspiring Olympic runner', to whom Bonar later prescribed a course of EPO. Bonar works in the Omniya Clinic in Knightsbridge, London, specialising in anti-aging treatment.
Bonar told the undercover reporter: "Some of these treatments I use are banned on the professional circuit. So you have to be mindful of that. Having said that – I have worked with lots of professional athletes who do use these treatments."
>>> More than 100 athletes have tested positive for meldonium already in 2016
The Sunday Times was unable to confirm that any of the sportspeople Bonar claimed he treated had any involvement with him. "Those contacted by the Sunday Times either denied being treated by him or declined to comment," the paper said.
The newspaper was tipped off about Bonar's activities by a sportsman who had approached UK Anti-Doping (UKAD) in 2014 with evidence of Bonar's prescription of banned drugs, including testosterone and EPO. UKAD reportedly dismissed the evidence as of 'little or no value'.
According to UKAD, Bonar's activities fell outside its jurisdiction, and they advised the sportsman that more evidence was needed to that the case could be passed to the General Medical Council (GMC).
UKAD issued a statement from its chief executive, Nicole Sapstead in response to the Sunday Times article, read:
"In relation to this specific case, UKAD commenced an investigation into Dr Bonar following interviews with a sportsperson in April and May 2014. Following those interviews and an investigation, UKAD found that there was nothing to indicate that Dr Bonar was governed by a sport and UKAD had no other intelligence to corroborate the sportsman's allegations.
"As a result, UKAD recommended to the sportsperson that more information was needed and as Dr Bonar fell outside of UKAD's jurisdiction, that information could be passed, if appropriate, to the General Medical Council, which does have the powers to investigate possible medical malpractice and pursue if necessary.
"UKAD encouraged the sportsperson to obtain evidence, to go through his files to see if he had any useful documents, to recall names, to keep in touch with investigators – anything which may be deemed as helpful to the investigation and could help to corroborate what had been said in his interviews.
"UKAD received handwritten prescriptions from the sportsperson in October 2014. The sportsperson claimed to have been issued these prescriptions by Dr Bonar and UKAD consulted an independent medical expert to examine the prescriptions. After assessing all the evidence, as per the National Intelligence Model, UKAD did not believe that there were grounds, at that point, to refer the case to the GMC."
UKAD announced that an independent review will now be undertaken relating to the Sunday Times' claims.
Thank you for reading 20 articles this month* Join now for unlimited access
Enjoy your first month for just £1 / $1 / €1
*Read 5 free articles per month without a subscription
Join now for unlimited access
Try first month for just £1 / $1 / €1