British Tour de France veterans reunite
Leeds Metropolitan University hosted a reunion for British Tour de France riders at the Yorkshire Grand Départ. CW and Chris Sidwells went along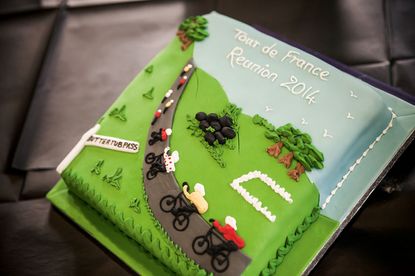 (Image credit: Chris Catchpole)
When he left Leeds this July, Simon Yates became the 63rd British cyclist to start the Tour de France. It's an exclusive club, but the British Tour-finishers club is even more exclusive.
The first rider to do so, Brian Robinson, organises regular reunions, so when Leeds Metropolitan University found out he was hosting one such event, they offered their facilities as part of a day called a 'Celebration of British Cycling History'.
The reunion was held the day before stage one of the race this year, and many faces, including those from the first waves of Britain's assault on the world's biggest bike race, attended. It was a day of catching up, formal talks and presentations. But above all, it was a day to recall old tales and remember the British Tour riders who are no longer with us.
Ken Laidlaw, who is part of a group of three Scottish Tour de France finishers, along with Robert and David Millar, recalled the day he fell out with Tom Simpson — a character cropping up in a lot of conversations.
"I verbally insulted him," said Laidlaw. "It was 1961 and Tom started [the Tour] but with a bad knee injury. He suffered through three days but he was dropped early on the fourth stage that went into Belgium.
I waited to try to get him back, but he wouldn't ride and we were losing lots of time. Eventually I lost my temper and said that I was going to get eliminated and it was all his fault. I called him all sorts of names, and I mean bad names.
"It caused a reaction because he ripped my legs off going up the Mur de Grammont. Then at the top we found four Italians who'd stopped because of a puncture, and Tom said, 'Right, ride with them, because whatever happens they aren't going to eliminate nearly half the Italian team'. We did, and we got through."
An Englishman, Irishman and a Scotsman
Simpson couldn't continue, though; his knee seized the next day and he abandoned. Laidlaw finished 68th overall, one of three from the Great Britain team to reach Paris, with Robinson and Irish guest rider Shay Elliott.
Laidlaw saved their Tour, too. He led a Pyrenean mountain stage, with men like Jacques Anquetil chasing, until seven kilometres to go, winning £145 — the most aggressive rider of the day award. Considering the team's total prize money at the end of that Tour was £488, Laidlaw's effort was a big boost to the balance sheet.
Cycling was a different world in Laidlaw's day, a difficult one for Brits to break into. One of the rare figures who did, Barry Hoban, asked Laidlaw which team he raced for during his two years on the Continent. "Margnat-Paloma," Laidlaw replied. "Did you get paid?" Hoban asked. "No."
Later, Vin Denson, the first British rider to win a stage in the Giro, revealed he was paid three months in arrears in the Pelforth-Lejeune team in the early Sixties.
"I told the manager Maurice de Muer that we had to steal cabbages and carrots out of the fields so my wife had something to cook, and sometimes I only ate meat once a week, and that was only because a local butcher took pity on me," Denson said. "De Muer just shrugged his shoulders and told me that not eating much would help me stay slim."
Fast forward
Also present were two British riders from the ANC-Halfords team at the 1987 Tour de France; Malcolm Elliott and Adrian Timmis. ANC were the first British trade team to tackle the Tour, but their main sponsor disappeared halfway through, as did all the money.
It irks Elliott when the team are painted as hapless individuals struggling around France on the coattails of a race they had no right to be in. "There were riders like Graham Jones in ANC who knew what they were doing. We'd done other big European races that year and the year before, and we'd done OK," he said. Indeed, Elliott's third in the 1987 Amstel Gold and Timmis's Midi-Libre stage win were impressive.
But the Tour is the Tour, and it was still a huge step up for two first-timers in a team running out of money and riders. "I got through by always promising myself I'd stop tomorrow, never today, and of course tomorrow never comes," said Elliott.
Timmis recalled, "There was only one day I didn't think I'd make it. It was the day after Alpe d'Huez when Stephen Roche's team went hard right from the start. We were flying up the Lautaret and we'd only done 10km but it was so fast I swung out of the line. Then somebody shouted, 'No, get back in, it's too early, you'll get eliminated.' I hung on, and I got through. I don't know who shouted, but he kept me in the race."
"It was me, I needed you later," Elliott joked.
This good-humour lasted all day, without a shred of 'it was harder for us than it is for them'. Brian Robinson summed up his feeling towards modern racing, shared by many of his generation:
"I often get asked if I'd like to ride today's bikes and be in a team like Team Sky. I think I was too free and easy for Sky; I wouldn't have fitted into the regime that they have. But the bikes? Well, yes, they are brilliant, but they still need pushing [hard]. The bikes are lighter and stiffer, but that doesn't make cycling any easier, it just makes it faster. Cycling hasn't changed in that respect, it's still very hard."
Barry Hoban: A British cycling great
Barry Hoban's tally of Tour de France stage wins beats every British rider bar Mark Cavendish. There's much more to
Brian Robinson was our pioneer pro, the first to make a living from racing in a top pro team in
Thank you for reading 10 articles this month* Join now for unlimited access
Enjoy your first month for just £1 / $1 / €1
*Read 5 free articles per month without a subscription
Join now for unlimited access
Try first month for just £1 / $1 / €1
Freelance Journalist & Author
Chris has written thousands of articles for magazines, newspapers and websites throughout the world. He's written 25 books about all aspects of cycling in multiple editions and translations into at least 25
different languages. He's currently building his own publishing business with Cycling Legends Books, Cycling Legends Events, cyclinglegends.co.uk, and the Cycling Legends Podcast