Cancellara 'taking all offers seriously'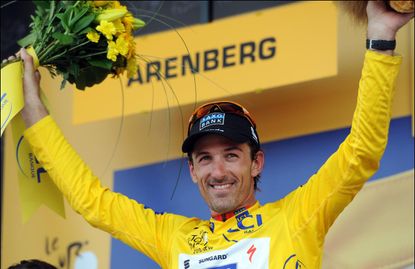 World and Olympic Champion, Fabian Cancellara is uncertain about his future with Bjarne Riis' Saxo Bank team, a situation underscored when he abandoned the Vuelta a España stage race yesterday in Spain.
Denmark's BT newspaper caught the Swiss cyclist before he departed from Madrid's Barajas airport. Cancellara told BT, "It is true that I am also thinking of my own ambitions and goals right now."
Cancellara stopped 119 kilometres into yesterday's 234-kilometre stage to Toledo. He leaves Saxo Bank's classification rider Fränk Schleck with only five team-mates (down from eight) ahead of the race's final mountain stage today. The three-week race finishes tomorrow in Madrid.
According to reports in the Spanish media, Cancellara's behaviour was "childish and unprofessional" in Thursday's stage and intensified an already uneasy relationship with Saxo Bank boss Bjarne Riis. Riis sent Fränk Schleck's brother, Andy, and Stuart O'Grady home from the race last week for having a late night drink the night before stage 10.
The Schlecks, O'Grady and Cancellara are all linked with new teams for next season. The Schlecks are helping form a new team based in their home country of Luxembourg, which Australian O'Grady will likely join.
Cancellara still has one year left in his contract with Riis, but may annul the contract for a reported €3 million. Riis will welcome the money as in August he signed three-time Tour de France winner Alberto Contador at an estimated €9 million over the next two years (2011-2012).
"I am taking all offers seriously," continued 29-year-old Cancellara.
"I probably will not win the Tour de France by racing on the same team as Alberto Contador. But the Tour is a dream. I feel that I have many good years left, so I do not feel desperate."
Switzerland's BMC Racing and Russia's Katusha reportedly have the best offers for Cancellara. There is also interest from British-based Team Sky and Fly V Australia.
Related links
Cancellara criticised by team for failing to finish Vuelta
Riis will break Cancellara's Saxo Bank contract for €3 million
Thank you for reading 5 articles this month* Join now for unlimited access
Enjoy your first month for just £1 / $1 / €1
*Read 5 free articles per month without a subscription
Join now for unlimited access
Try first month for just £1 / $1 / €1