Car hire company faces backlash after telling cyclists they can 'enhance performance' and 'go faster' in BMWs
Cyclists point out that cars are often quite a bit slower than bikes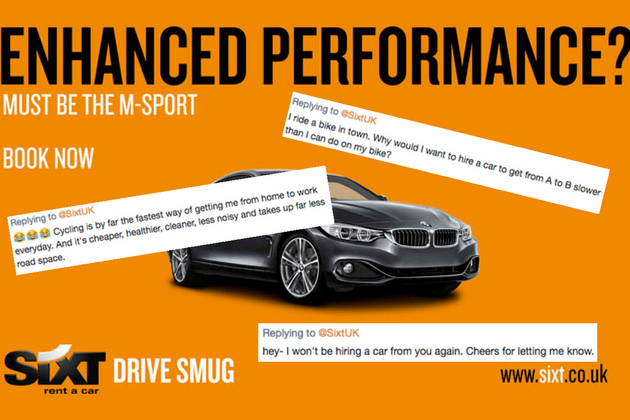 Car rental company Sixt is facing a backlash on social media over an advert that urges cyclists who "want to go faster" and "enhance performance" to abandon their bike and rent a BMW car instead.
The tweet from the Sixt UK account coincided with the release of a parliamentary report in which MPs said that Team Sky and Bradley Wiggins used the "performance-enhancing properties" of the asthma drug triamcinolone to "improve his power-to-weight ratio" ahead of the 2012 Tour de France.
Sixt UK's tweet included the shortened url "sixt.info/CyclingisDope" along the "Enhanced Performance" in big, black letters, but it was the idea that driving a car was always faster than riding a bike that many Twitter users took issue with.
While Sixt seemed pretty pleased with the tweet, replying with some snarky comments to the first few people who responded, there were plenty of people who said they would be reconsidering their choice of hire car company because of the tweet.
If you fancy using one of Sixt's BMWs for a day driving around central London, then the cost will be around £120 (not including fuel). Alternatively, you can pay £2 for 24 hours access to more than 11,000 Santander hire bikes, with the first half hour of each journey being free.
As well as renting cars in more than 105 countries, Sixt also rents bicycles in a number of locations in eastern Europe.