Cavendish bemused by Britain's Olympic obsession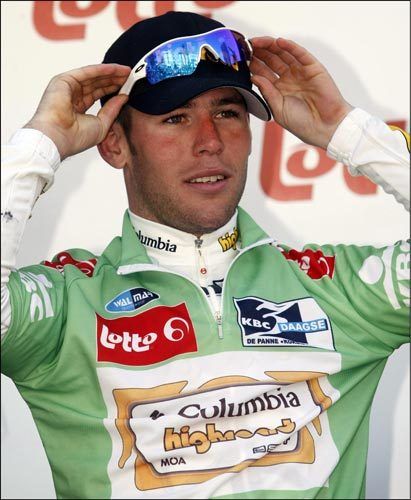 Mark Cavendish has questioned Britain's obsession with Olympic success, saying that "the Olympics is not even in the top 10 of what you can achieve".
The sprinter from the Isle of Man was interviewed for the BBC's Inside Sport programme on Monday, and said that he was completely over the disappointment of coming away from last year's Beijing Olympic Games without a medal - the only British track rider to do so.
"For me, the Olympics is not even in the top 10 of what you can achieve," Cavendish said to the show's presenter Gabby Logan.
"But you ask the average member of the public in Britain and they'll look at you like you're mad."
After winning four stages of the 2008 Tour de France, Cavendish left the race early - ruining his chances of another stage victory and winning the green jersey - in order to prepare for Beijing, where he rode the Madison event with Bradley Wiggins.
"There's a lot of people that didn't win a medal [in Beijing], it's what I sacrificed to go there that hurt the most. It is quite important as a British person, but not necessarily as a cyclist."
Cavendish explained that to cycling fans, Olympic events do not rank highly compared to the Classics and Grand Tours.
"This year already I've won six or seven races," Cavendish said. "If you asked a cycling enthusiast, they'd say it overshadows what the Olympics is."
Although Cavendish said that his track career was over directly after the 2008 Olympics, he did make a return to the boards at the track cycling world championships in March where he rode the Madison with Peter Kennaugh.
CAVENDISH TESTED 64 TIMES IN 2008
Always out-spoken on the issue of doping, Cavendish also used the opportunity to express his opinion on how cycling is often used as a doping scapegoat, even though the sport does more than most in its fight against the drug cheats.
"If you put the time and effort into catching the cheats you're going to catch them, and that's what cycling does," said Cavendish.
"I did tests 64 times last year - 64 times! Tell me anybody in other sports gets that. I have to pay 20 per cent of all my prize money to anti-doping."
Cavendish will be lining up in Venice on Saturday, May 9, for the start of the 2009 Giro d'Italia. Last year, Cavendish won two stages of the race and will be looking to add to his 2009 tally of wins that have so far included Milan-San Remo and stages of the Tour of California, Tour of Qatar, Three Days of De Panne and Tirreno-Adriatico.
You can view a brief video of the interview on the BBC website.
RELATED LINKS
2009 Giro d'Italia: The Big Preview
Mark Cavendish: Rider Profile
Cavendish misses out in final Romandie sprint
Thank you for reading 5 articles this month* Join now for unlimited access
Enjoy your first month for just £1 / $1 / €1
*Read 5 free articles per month without a subscription
Join now for unlimited access
Try first month for just £1 / $1 / €1