CAVENDISH HOPES FOR A WINNING START IN QATAR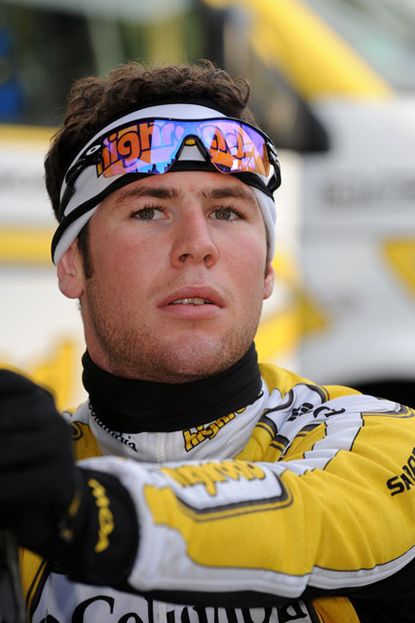 Mark Cavendish will fly to Doha, the capital of Qatar, this week, ready for his first race of the season.
The eighth Tour of Qatar (opens in new tab) starts on Sunday (February 1) with a six-kilometre team time trial on the corniche road overlooking the bay. After that there are five stages, all of which could finish in a sprint, giving the Isle of Man rider a chance to get his first win under his belt nice and early.
Cavendish, who won 17 races last season, says he is in good form and hopes to win a stage, but he?s taking nothing for granted.
?It?s fair to say I should win a stage. I think I should win one, but you can?t guarantee anything. I do feel in really good shape, but Qatar is more about getting back into racing and getting some speed in the legs,? he said.
?At the team training camp in Majorca, we were doing some lead-outs and they were so fast. The hardest part won?t be the sprints, it?ll be following my team-mates? wheels.?
COLUMBIA FOR QATAR
Cavendish will have the support of a very strong team of powerful riders ideally suited for the flat, windy racing in the Middle East next week. Frantisek Rabon, Michael Barry, Marcus Burghardt and world time trial champion Bert Grabsch will be joined by lead-out men Marcel Sieberg and Greg Henderson.
But Cavendish will not be chasing the overall classification at the expense of stage wins. ?It?s the sort of race where you can jeopardise your chances of stage wins if you focus on the overall,? he said.
?We?ll be aiming to collect stage wins, knowing that will put us in with a shout overall.
?You?ve got to be vigilant. It?s the sort of race where you can lose the stage win in the first kilometre. I remember in Belgium, at the Circuit Franco-Belge, another flat race, that you can lose it 300 metres after the end of the neutralised zone. I remember one stage there was a left-hand bend just after the flag went down and about 15 of us went away and that was it. Qatar could be like that if you?re not careful.?
The longest stage in Qatar is only 147 kilometres long, so Cavendish will be training behind the car after each day?s race to bring him up to 200 kilometres each day.
After Qatar he will race at the Tour of California before heading to Italy to ride the Eroica and train for Milan-San Remo.
LA PRIMAVERA
At 300 kilometres Milan-San Remo is the longest one-day race on the calendar, and despite Cavendish?s status as the fastest sprinter in the world, there are sceptics who think the distance and the hills in the final 50 kilometres will be too much for him.
?It?s the same for everyone,? says Cavendish. ?The thing is, San Remo for me is like the Tour de France was in 2007. A result will be a bonus, but I?m going there to learn about the race.
?I know I can win it in the future, but I need to learn. I?ll go for it full gas, give it absolutely everything, and if I don?t win, I won?t be disappointed as long as I learn from it.?
Meanwhile, Cavendish, who used to work in a bank, has spent his time hunched over a calculator completing his tax return. ?People think the Isle of Man is a tax haven like Monaco, but it?s not. It?s a nightmare because I have to pay tax in every country I?ve worked in and calculate the percentage based on the number of days I?ve been there.?
And he said that after initial teething troubles, he?s delighted with his new Scott bike. In Majorca he was seen paying particular attention to his bike.
?It wasn?t the Scott. It was just the position of the bars that wasn?t right. It must have got banged in the bike bag. It was only out by millimetres, but when you do 40,000ks a year on it, you notice. We couldn?t work out what was wrong with it.
?I trained all winter on the production bike but now I?m on the reinforced one and it?s so good. It?s unbelievably fast, and the new HED wheels feel fantastic.?
Cavendish v Boonen. See our Tour of Qatar preview on this site on Thursday
Cycling Weekly will be in Qatar covering the race. Keep up to date with cyclingweekly.co.uk from Sunday.
RELATED LINKS
Cycling Weekly's all-time list of British pro winners Where does Cavendish rank?
Cavendish trains in Majorca
Mark Cavendish and Team Columbia training, January 2009, photo gallery
Thank you for reading 10 articles this month* Join now for unlimited access
Enjoy your first month for just £1 / $1 / €1
*Read 5 free articles per month without a subscription
Join now for unlimited access
Try first month for just £1 / $1 / €1
Sports journalist Lionel Birnie has written professionally for Sunday Times, Procycling and of course Cycling Weekly. He is also an author, publisher, and co-founder of The Cycling Podcast. His first experience covering the Tour de France came in 1999, and he has presented The Cycling Podcast with Richard Moore and Daniel Friebe since 2013. He founded Peloton Publishing in 2010 and has ghostwritten and published the autobiography of Sean Kelly, as well as a number of other sports icons.