Cavendish joins Millar and Elliott after winning Vuelta points jersey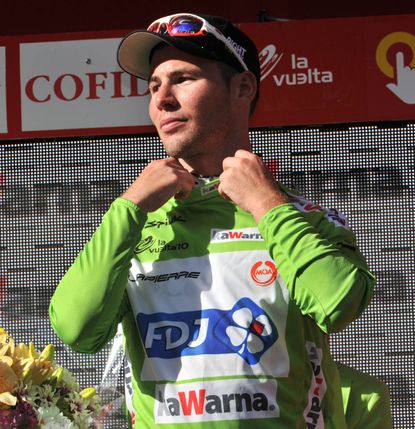 Mark Cavendish is only the third British rider to win a major classification in one of the grand tours.
After winning the green jersey at the Vuelta a Espana, he follows Robert Millar and Malcolm Elliott.
Millar won the king of the mountains title in the 1984 Tour de France with a convincing lead over Laurent Fignon, the overall champion that year.
The Scottish climber also won the king of the mountains at the 1987 Giro, taking the dark green jersey home with him. He also won a stage, at Pila, and was second overall to Ireland's Stephen Roche.
Malcolm Elliott is the only other rider to have topped a points classification in one of the big three races.
Elliott was riding for the Spanish Teka team when he won the competition at the 1989 Vuelta. The jersey was blue in those days. Elliott won two stages and fended off a strong challenge for the points competition from Dutch rider Mathieu Hermans, who won three stages.
Now Cavendish, who won three stages in this year's Vuelta, has joined the roll of honour, taking the green jersey ahead of Tyler Farrar of the United States. The sprinter from the Isle of Man also won three stages.
BEST OF BRITISH
1984 Tour de France - king of the mountains
Robert Millar
Polka-dot jersey
1987 Giro d'Italia - king of the mountains
Robert Millar
Green jersey
1989 Vuelta a Espana - points competition
Malcolm Elliott
Blue jersey
2010 Vuelta a Espana - points competition
Mark Cavendish
Green jersey
Thank you for reading 20 articles this month* Join now for unlimited access
Enjoy your first month for just £1 / $1 / €1
*Read 5 free articles per month without a subscription
Join now for unlimited access
Try first month for just £1 / $1 / €1