Cavendish says he won in Spain on behalf of "eight other guys"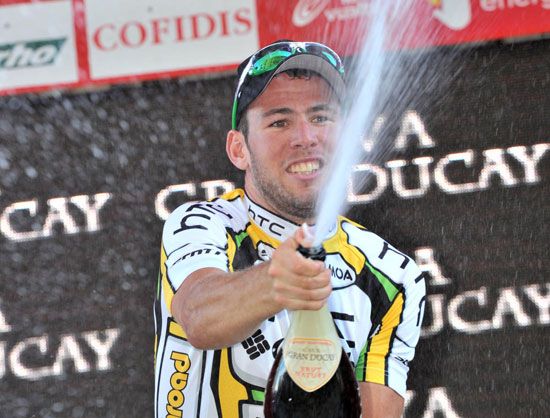 Smiling and relaxed after he became Britain's second ever winner of stages in all three major Tours on Thursday, Cavendish recognised that it was "something very special."
"Everybody knows how passionate I am about this sport and just to take part in a major Tour is a big thing for me," Cavendish said in a post-stage press conference.
"Then to be able to stand on the podium as a winner is something very special."
"That said, when I win it's special because I'm got to the front by my team and without them I couldn't do that."
"When I win it's on behalf of them and I'm absolutely grateful to them."
Cavendish said that he had wanted team-mate Matt Goss to take the win, but that "he'd stopped pedalling when I yelled at him to go."
"But when a guy does that much work for you, you want him to take the glory."
Cavendish's first ever green jersey is now a real possibility, although he said he would "rather get to Madrid than fight for intermediate sprints."
"The green jersey's a different battle here to the Tour because there are equal points on offer on mountain stages and in flat stages."
"It'll partly depend on who wins what on the summit finishes."
But he denied there was any sense of relief after taking his first win of the Tour of Spain - as there had been when he won at the Tour de France this July.
"It would have been nice to get those earlier sprints here in Spain, but it didn't happen."
"In the first one [winner Yauheni] Hutarovich did the sprint of his life, in the second the team had bad luck with those punctures and in the third I got boxed in."
"It's just special finally to be able to win in the Vuelta."
Related links
Cavendish completes the set of Grand Tour stage wins