Chorley Grand Prix kicks off the Elite Road Series on Saturday
New 186.7km race will provide the first true test of Britain's domestic squads.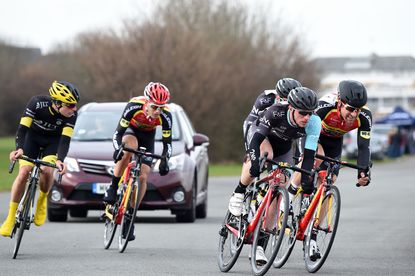 British Cycling's Elite Road Series gets underway on Saturday with the Chorley Grand Prix, a new event for 2015.
As CW reported last year, BC was attempting to establish a modern version of the Tour of Lancashire, a popular event on the series' Star Trophy predecessor.
Upon leaving Chorley, the race comprises of five laps of a 37.3-kilometre anti-clockwise circuit, which retraces some of the route from the Commonwealth Games road races in 2002.
Its defining feature is likely to be the Rivington Road climb, the top of which comes 7.4 kilometres into each lap.
"It was no-brainer to go over the climb towards Belmont," said race organiser Carl Lawrenson. "It's a two-and-a-half mile climb, so it's not too tough, but after five laps it will be definitely be a selection point.
"That's followed by five miles of largely flat but exposed roads, so I think it will be a challenging course."
The race sits in the Easter slot previously occupied by the Girvan and Tour DoonHame stage races in Scotland.
And while this year's race comprises of one day, its calendar position means it has scope to expand in years to come.
"It's nice to bring a race of this stature back to the roads of Lancashire, a bit of a regenration of what was the Tour of Lancashire, if you will," Lawrenson added.
"We'd like to expand it over a weekend in years to come, especially as we've lost the traditional Easter stage race of the Girvan. But we're walking before we run, which I think is the best way to go."
http://timeInc.brightcove.com.edgesuite.net/rtmp_uds/26996914001/201504/3724/26996914001_4148912420001_4148825975001.mp4
Defending series winner Yanto Barker is among those representing One Pro Cycling in its biggest race to date. Team Wiggins will make its UK debut, while the five BC Elite National squads – SportGrub-Kuota, Velosure-Starley Primal, Pedal Heaven, Catford CC Equipe-Banks and Polypipe – will also be in action.
"I pretty sure the rider is going to be a rider we know well and who comes from a big team," added Lawrenson.
"Having organised the recent Eddie Soens Memorial race, I saw [One's] Pete Williams ride to a great victory there, and then he repeated the feat at the CDNW race the following day. I think he and the One team are going to be competitive."
Chorley GP 2015
Saturday April 11
Distance: 186.7km (116 miles). Five laps of 37.3km
Start and finish: Park Road, Chorley
Race start: 11am
First crossing of the finish line: 11.53am
Third crossing of the finish line: 1.45pm
Course: Chorley – Rivington – Belmont – Abbey Village – Withnell – Brinscall – Wheelton – Buckshaw – Chorley
Thank you for reading 10 articles this month* Join now for unlimited access
Enjoy your first month for just £1 / $1 / €1
*Read 5 free articles per month without a subscription
Join now for unlimited access
Try first month for just £1 / $1 / €1
Nick Bull is an NCTJ qualified journalist who has written for a range of titles, as well as being a freelance writer at Beat Media Group, which provides reports for the PA Media wire which is circulated to the likes of the BBC and Eurosport. His work at Cycling Weekly predominantly dealt with professional cycling, and he now holds a role as PR & Digital Manager at SweetSpot Group, which organises the Tour of Britain.