Chris Boardman backs 20's Plenty campaign
British Cycling's policy advisor, Chris Boardman, calls a campaign to reduce the default national speed limit to 20mph as 'utterly logical'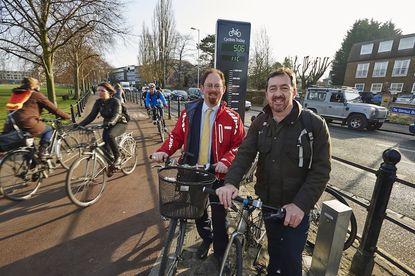 (Image credit: Luke Webber - British Cycling)
Chris Boardman has said a 20mph default national speed limit needs to be set by central government, as 'a statement of the kinds of places we want to live', rather than leaving it up to towns and cities, or individuals, to campaign for.
At the annual 20's Plenty for Us campaign conference in Cambridge, campaign founder Rod King, MBE called for the default national speed limit to be reduced from 30mph to 20mph by 2020, and for government to stop hiding behind localism.
Default 20mph is often cited as the most effective - and cheapest - single measure to create safer roads. If a person is hit by a car at 35mph there is a 50% of survival, at 20mph this increases to 97%.
>>> New 20mph speed limit for London roads in bid to save lives
Boardman called default 20mph 'utterly logical'. He said: "Personally I think [20mph] should be a national strategy that is given locally, that we decide this is what we want our towns and streets to look like. Making our streets more liveable is a national issue. Inactivity is costing us at the moment just under a billion pounds a week."
"The default speed limit [should be] 20mph and then you can choose to raise it in areas where you think it's appropriate. 20mph for me, it's not a number, it's not a speed, it's a statement of what we want our streets to look like, who we want to prioritise, who we want them to be for in years to come."
While many UK councils, and most of the UK's largest cities, including Manchester, Edinburgh, Newcastle and Cambridge, are implementing widespread 20mph on residential streets, many have not, despite costs being 'minuscule'.
>>> Chris Boardman: Infrastructure Bill changes a massive step in right direction
Boardman said campaigning for safer roads is met by two responses: "we can't afford it, and it's a local issue." Just over a year ago invited his local MP, Esther McVey, to look at simple measures to improve road safety in West Kirby, including making a one-way promenade two way for cycling and reducing the speed limit from 30mph to 20mph - a road on which he would let his kids cycle.
"It would cost a few hundred pounds to change the [one way] sign to say 'except cyclists'; a few hundred pounds more to make it 20mph," he said.
"Esther smiled and was very polite and just over a year on absolutely nothing has changed. We haven't even replaced a sign to let people know where the cycle route is. I think that localism is OK if local MPs will make decisions on our behalf, but that hasn't been the case. We choose to do nothing, to maintain the status quo."
>>> Government announces how Cycle City Ambition funding will be spent
Rod King, MBE, founder of the 20's Plenty for Us campaign, said at the conference: "20mph is the key to traffic reduction, to tackling congestion and to a community's economic and ecological sustainability. The national 30mph speed limit has been dumped as no longer appropriate, no longer credible and no longer acceptable to meet the needs of modern Britain.
"But whilst the UK government has devolved the setting of national speed limits to Scottish and Welsh politicians it refuses to take the responsibility to in England and hides behind the fig-leaf of localism when it comes to revising the English national urban speed limit. Our call is that for England, Scotland, Wales and Northern Ireland, the default urban limit will be 20 by 2020."
Among UK councils which have chosen to implement widespread 20mph speed limits are Birmingham, Manchester, Liverpool, Bristol, Croydon, Cardiff, Nottingham and Newcastle.
Cambridge City Council is introducing 20mph speed limits across 85% of the city's roads within the next 12 months, largely residential streets with some A and B roads. County Councillor Lewis Herbert said yesterday: "We want to be a 20 miles an hour city, apart from the main routes into the city. It is a culture change. I have been involved with environmental culture change for 30 years and once we make that change, people wonder what was happening before".
>>> Wales decreases cycle spending despite cycling investment rules
Manchester has been introducing 20mph since 2003, reducing death and serious injury to children by 55%. The city council is planning to introduce 20mph on all non-major roads.
Transport for London yesterday announced it is introducing 20mph on some of the city's major roads. The City of London and Islington councils already have borough-wide default 20mph speed limits, and others, including Hackney and Tower Hamlets, are following suit.
Thank you for reading 10 articles this month* Join now for unlimited access
Enjoy your first month for just £1 / $1 / €1
*Read 5 free articles per month without a subscription
Join now for unlimited access
Try first month for just £1 / $1 / €1