Clancy wins Blackpool Nocturne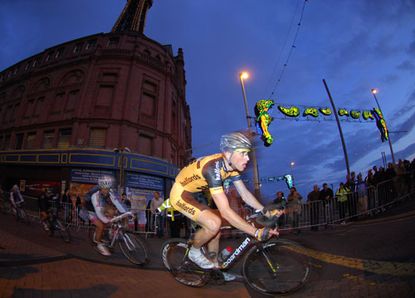 Beijing Olympic Games team pursuit champion Ed Clancy of Halfords BikeHut won the final event of the 2009 Nocturne Series in Blackpool on Saturday night.
The race was animated throughout with Kristian House making the first move around the 950m course based around the Tower and the North Promenade.
House managed to gain a substantial gap in the opening third of the race but was chased down by the main pack headed by CandiTV and Halfords BikeHut.
With House reigned in, a group got away which included Malcolm Elliott, Simon Holt, Ian Wilkinson, Ed Clancy, Darren Lapthorne and Dean Downing. Local man, Matt Cronshaw from Lancaster, managed to bridge the gap and join the lead group in the closing laps.
Cronshaw put in a spirited attack in the final three laps in an attempt to make it a local win. However, Clancy's team mate Ian Wilkinson brought it together in the back of the final lap. So, by the final corner Clancy took to the front and was able to sustain his effort to out sprint Dean Downing and Malcolm Elliott.
"Kristian was a dangerous rider out there," Clancy told Cycling Weekly after the podium presentations.
"Even though Kristian was on his own, he's so fine a rider he could have stayed out there all day.
"We bided our time and didn't panic. We got it back together and eventually six or seven of us went off the front. We were a bit outnumbered by Rapha but yeah, I owe it to Wilko to be honest. He made it quite easy for me. I was pretty confident I could hold off or a least have a good go if it came to a sprint.
"Wilko kept it together and I managed to hold off Dean (Downing) and Malcolm (Elliott) as they are no slouches on the finishing straight either. I just wound it up and wound it up straight away from the final corner. It was like a kilo effort on the track."
Other events over the evening included the Cycling Weekly support race won by Phil Hersey (Eagle RC). Hersey dominated the race and time trialled to a solo victory. It was nearly a minute before Jamie Shirlaw and Alan Peet sprinted for the final podium placings.
Marvulli begs and borrows kit
Swiss track star Franco Marvulli arrived in Blackpool with no bike and kit. His flight from Amsterdam arrived without his bike box which also had his helmet, kit and shoes inside.
Once on Blackpool's promenade he had to beg and borrow from the assembled teams to get himself ready for action.
It was fortunate that Rapha Condor had a spare 57cm bike on the rake which fitted the bill perfectly. With riding for SIS on the night there was no problem with a skinsuit. It was then just a question of a helmet and shoes to be race ready.
All was well and Marvulli eventually placed eighteenth just behind Rapha's Tom Southam and one ahead of newly-crowned national road champion Kristian House.
Results

Cycling Weekly support race

1. Phil Hersey (Eagle RC) in 45-19
2. Jamie Shirlaw (Liverpool Century) at 59secs
3. Alan Peet (VC St Raphael)
4. David Streule (London Dynamo)
5. Andrew Udall (Tunstall Wheelers) all same time.
Nocturne Series round 3

Blackpool Elite Criterium

1. Ed Clancy (Halfords BikeHut) in 58-31
2. Dean Downing (Rapha Condor)
3. Malcolm Elliott (CandiTV-Marshalls Pasta)
4. Darren Lapthorne (Rapha-Condor)
5. Simon Holt (CandiTV-Marshalls Pasta)
6. Ian Wilkinson (Halfords BikeHut) at 4secs
7. Matt Cronshaw (Rapha-Condor) at 15secs
8. Russell Downing (CandiTV-Marshalls Pasta) at 38secs
9. Jon Mozley (Madison.co.uk)
10. Rob Partridge (Halfords BikeHut) at same time.
Track star Franco Marvulli tests out a borrowed Rapha-Condor team bie after his kit was lost on the flight in
Ed Clancy on his way to winning the 2009 Blackpool Nocturne
Related links
Blackpool Nocturne 2009 preview
Thank you for reading 10 articles this month* Join now for unlimited access
Enjoy your first month for just £1 / $1 / €1
*Read 5 free articles per month without a subscription
Join now for unlimited access
Try first month for just £1 / $1 / €1