Dangers of counterfeit Oakley sunglasses laid bare as club rider is 'lucky not to be blinded' in crash
Southend Wheelers rider spends three days in hospital after crash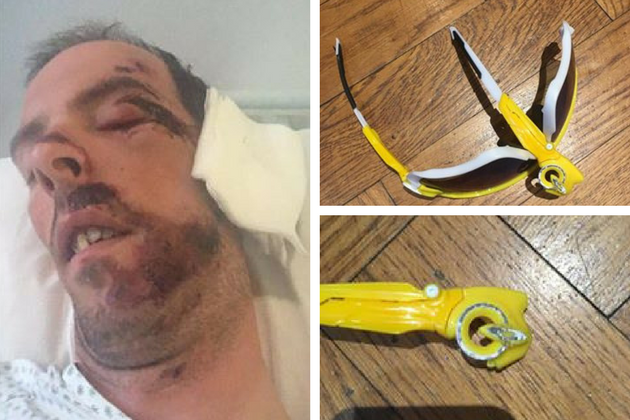 (Image credit: Jamie Maidment/Twitter)
A club rider from Essex has sought to warn others about the dangers of counterfeit Oakley sunglasses after suffering serious facial injuries in a crash last week.
Jamie Maidment was racing in the Alan Rosner Memorial Races at Hog Hill on Easter Monday when he crashed heavily, landing on his face.
This would be a nasty crash in any circumstances, but as Maidment wrote on Twitter, his choice of eyewear made his injuries particularly bad.
>>> Cheap Chinese carbon imports: are they worth the risk?
Reluctant to race in and potentially break one of the genuine pairs of Oakley sunglasses that he owned, Maidment decided to go online to find cheaper alternatives.
"I found some cheap Jawbreaker copies on Aliexpress for £15," Maidment wrote. "I took a punt on them thinking 'if they're rubbish then I can just scrap them, no bother.'
"Turns out the fit and finish on them is excellent, very nearly on par with the real thing. And they were available in club colours!"
Kitted out with his yellow and white sunglasses to match his Southend Wheelers kit, Maidment travelled to east London for the race where he would discover why his sunglasses cost £15 rather than the £175 RRP of the genuine Oakley product.
>>> Watch: Mechanic snaps counterfeit handlebars with his bare hands
"The problem is that genuine Oakleys are impact tested to quite a high degree whereas these are not," Maidment, who is now back on his bike, continued. "I discovered this when I faceplanted.
"The right earpiece snapped clean off and caused quite a significant laceration above my right eye. Frankly, I'm lucky it didn't blind me.
"Please bear this in mind next time you're shopping for cycling sunglasses. The cheap copies are great if you never intend on crashing them."
An Oakley representative told Cycling Weekly that the company would encourage consumers to only buy its sunglasses from certified shops, and that this would never have happened with genuine Oakley sunglasses.