Watch: Mechanic snaps counterfeit handlebars with his bare hands
Carbon bars were bought online for just €30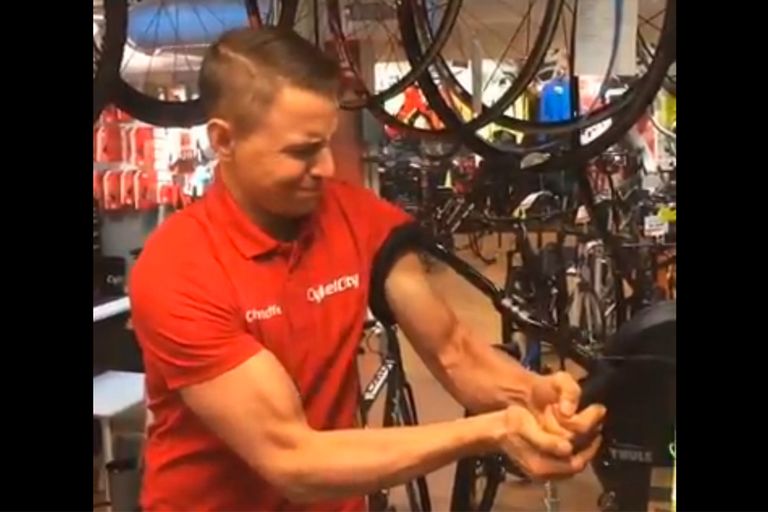 If your eye was drawn by our story on counterfeit bike parts being sold through online auction websites before Christmas, but thought that the great deal that you were could get might be worth the risk, then maybe this video will change you mind.
The video shows a staff member at Swedish bike shop Cykel City snapping a pair of carbon handlebars with his bare hands, something that could quite easily happen out on the road if you hit a big enough pot hole.
>>> Cheap Chinese carbon imports: are they worth the risk?
The handlebars were bought online by shop mechanic Mattias Lundin, who wanted to take a closer look at some of the fake parts that he sees regularly on customers' bikes.
"I bought this €30 handlebar as a "Zip SL70 Agro" to try out the quality and was not surprised when it started cracking when tightening it in a stem for the first time. It has the exact shape of a Specialized S-Works Aerofly bar and some kind of attempt on Zipp graphics."
>>> Can you trust repaired carbon bike frames?
Mattias also repeated the test with a pair of genuine Zipp handlebars, which would only give a small amount of flex, with no cracking sounds, even with much more force applied.
The moral of the story is to always buy your bike parts from your local bike shop or through a reputable online retailer to make sure that they will never fail you out on the road.