Colnago owners' day: celebrating the Italian brand with its biggest fans
Last autumn saw the very first Colnago owners' day in the UK — CW joined the Italophiles in Gloucestershire to ask them what makes their bikes so special - Photos by Jesse Wild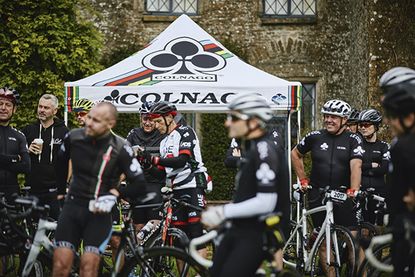 (Image credit: Jesse Wild)
"I was on Twitter one day and I saw another brand talk about an owners' ride and it looked very kind of… not amateur but not very organised," recalls Yanto Barker in his famously languid way. So the former pro and owner of the Le Col clothing brand decided to do something about it.
"I thought, we should do that. Ten times as well. I have a good relationship with Windwave who distribute Colnago, I ride a Colnago, have been sponsored by them and I know they're a brand that has the most loyal following of any in the industry — so there should be a Colnago day."
And so there was a Colnago day. On September 30 last year around 160 owners plus WorldTour pro Ben Swift, who rides a Colnago as the team bike of UAE Emirates, gathered on the manicured lawn of Chavenage House near Tetbury in Gloucestershire.
Barker had lined up a programme of events to celebrate the iconic Italian brand that included a 40-mile ride-out from Chavenage, an al fresco champagne lunch afterwards followed by a Q&A with Ben Swift hosted by cycling-mad TV presenter Matt Barbet.
"It's just a cool, cool brand — it really is," enthuses Barker. "There are bikes here that have been ridden throughout cycling history. And to have it here in this place that's also steeped in history and culture..."
Chavenage House also happens to be steeped in cycling: the heir to the Chavenage estate is 25-year-old James Lowsley-Williams who rides for Eisberg-Canyon. Lowsley-Williams clearly relished hosting the Colnago day and was involved from start to finish, not only riding with the Colnago owners but also clearing up the paper plates from under their chairs after the Q&A.
"I wasn't surprised by the level of Colnago fandom," says Barker. "The head office in Italy were also really positive. It's my ambition with Le Col to live up to that same standard — my aspiration is to be seen in the same way — so it's really good for us."
Was Ernesto Colnago himself tempted to make the journey from Cambiago to Chavenage?
"Windwave were at Eurobike and talked to Ernesto about it and he said, 'Ah, I might come.' But they were like, no, just give us this first year to iron out everything… and just come next year. So it wouldn't be a surprise if he turns up next year."
Neil Nash-Williams, 1974 Colnago Mexico 'Ruby'
"Most of us in the Cicli Artigianali club are in Gaiole [at L'Eroica] at the moment and I'm in Gloucestershire which isn't quite the same! My silly moustache was grown for that.
"Why is it called Ruby? It's got inserts in the brakes where they've drilled it out and filled in a red section. You've got to call it something, haven't you?
"We've done two of the full-distance Gaiole Eroicas — a 212km off-road ride. Never had a puncture. It's got Royce hubs, very rare and the first time they did internal bearings — they're brass. It's all Super Record, everything on it was available at the time.
http://www.youtube.com/watch?v=bW7r7XUr9yo
"It's an undeniably brilliant ride. Every time I get on that bike I'm like, 'oh, I'm home'. It's like putting on an old favourite pair of shoes. It hurts me sometimes but all your bikes hurt you in some way, don't they? But somehow I forgive Ruby more than I do the others.
>>> Inside Colnago: The making of a legendary brand
"I got Ruby through the club — we help each other source things. Obviously finding a period chrome frame is so unusual. I identified what I was looking for and then we researched every conceivable way of finding it. We have a lot of contacts. The shifters are from Australia and are all pantographed.
"The fact that somebody has actually made this and filed away all these little bits and then filled it. In a world where everything is so mass-produced it's wonderful to find that bespoke, artisan kind of concept still. Increasingly people are gravitating towards that again. If we go up Box Hill on these we're mobbed. People are not so keen to talk about a modern bike. "Oh, I couldn't afford that," you know. So it's funny how it transcends all that.
"Amazingly, Bob, who does most of the sourcing, had the bits together in about six weeks. And it's got to be all spot-on. You don't want somebody saying, 'That rear mech is wrong, mate.'"
Yanto Barker, 2017 Colnago Concept
"This is my absolute favourite bike here. They're all nice bikes — I did ride a red, white and blue Tommy Voeckler national champion-edition C59 in 2010. But the Colnago Concept is the best bike I've ever ridden.
I still like riding fast — I'm retiring gradually. One step at a time."
Steffi Smith, 1982 Colnago Mexico
"It belongs to a friend of mine, Geoff, and I've used it in the Eroica, 2014. It's just a beautiful bike. I love riding it.
"I think it's a 1982 Mexico but it's the round tubes and it's got the braze-on front mech which signifies 1982. It's Super Record throughout. Pantographed chainset, pantographed 3T bars and stem. The only thing that isn't Super Record are the Simplex shifters. In the Eighties everyone put them on because they were better than the Campagnolo ones.
"I've got the Super Record pedals but we've just put these [clipless] on today because they're a bit easier to use really.
"These are Mavic MA40 wheels with Campagnolo hubs. The actual wheels are Ambrosio Durex rims on Super Record hubs but you don't want to be riding on tubs today.
"The bike came from America. It's got the serial number in the dropout — as the market there required."
Chris Netherclift, 1992 Colnago Carbitubo
"Cicli Artigianali is a club that we set up about two years ago. We've got lots of old bikes and we wanted to put them on a website, show them off, let's go for a ride… and two years later we've got 200 people and 300 bikes on the site. The important bit is that we're taking the bikes out and riding them, not just hanging them on the wall.
"I've got the Carbitubo, the first carbon Colnago. It comes from a time before they had the knowledge to make a carbon monocoque but it's a fantastic ride. I've had it about 12 months and built it up. You see the Mapei team bikes regularly but not the black and red style with the split down tube.
"It's got Shamals, C-Record groupset, nine speed, and it's just as Campagnolo moved to the first set of Ergo levers that weighed a ton. It's aerodynamic but it weighs so much that it negates it!
"People want modern bikes because you can ride them into the ground and forget about them, but bikes like this evoke a memory of a bygone era… or when you were a child you saw a picture of Eddy Merckx on a Molteni. People want that bit of childhood back.
"Colnago is a classic Italian brand that is still available. It's the memory of the classic riders.
People want to feel that they've got a part of that history when they buy a Colnago. We've lost
a lot of the English builders.
The Italians have that style that people appreciate and it comes out in the bikes."
Andrew Simpkins, 2015 Colnago Master
"They still make the Master and it will take an 11-speed groupset, so I can put Dura-Ace on it and you get the benefit of a modern groupset with a steel frame. So it's really nice. I've only owned this one two years from new but I've had Colnagos for 20 years — the C40s, 50s, 60s, the carbon ones.
"I bought this one because when I first really got into cycling Mapei were the big pro team so it's an exercise in nostalgia.
"You ride carbon frames and you think, well they're bound to be better, but you can understand why they built frames out of this kind of steel for so many years because it's comfortable, it's got a springy sort of feel to it.
"I race on a C60 because that's what you're supposed to do, but when I just want to go out for a ride it's this one. I have four Colnagos altogether. A C40, a C59 and a C60.
"What do I like about Colnago? The paint. Some of the Art Décor colour schemes are lovely."
Steve Hiscock, 2016 Colnago C60
"I had an M10 at first, really loved it, then came into a bit of money and thought right, I'll get one of these as well.
"The M10 was not only my first Colnago, it was my first road bike, so I've always had Colnagos — a nice situation to be in! Just deciding what colour to get next. I liked the OTT-ness of it but now… we'll see. I bought it as the frame and then built it up. My choice for the groupset was to sell the M10 and buy Campag ESP or keep the M10 and just get Shimano [Ultegra], which is what I ended up doing."
Mick Ives, 2017 Colnago C60
"This year [2017] I did the whole Giro route on this bike. I started two days ahead of the pros and finished one day ahead. We raised a lot of money for four British charities.
"Peter Nisbet and Windwave have been my sponsors for many years [Ives is 78]. So as the distributors for Colnago they put it to Ernesto. He was up for it and agreed to supply a C60. He insisted on designing the colour scheme himself and was particularly pleased that it would be used in the Tour of Italy.
"I didn't quite know what I was going to get but it's beautiful. I rode it through the entire Giro and never had a spot of bother with it.
"He was so chuffed with the colour scheme that he's now included that in the C60 range.
"I flew out a few weeks afterwards to meet him and spend some time with him. He showed me around the factory and it was a real pleasure. I signed one of the jerseys I had used and left it with him and he in turn produced a very large book about Colnago that he signed. It's one of my most treasured possessions because let's face it, in the cycling world he's God, isn't he?"
Thank you for reading 20 articles this month* Join now for unlimited access
Enjoy your first month for just £1 / $1 / €1
*Read 5 free articles per month without a subscription
Join now for unlimited access
Try first month for just £1 / $1 / €1