Inside Colnago: The making of a legendary brand
Italian firm Colnago has become a byword for quality and understated style; we talk to founder Ernesto about the making of a legendary brand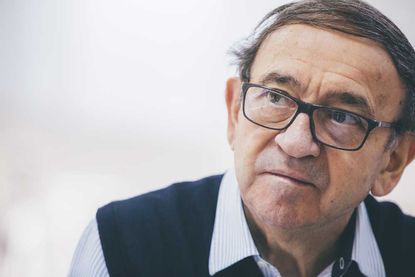 Do you remember the film 'Breaking Away'? This 1979 coming-of-age drama features Dennis Christopher as Dave, a young man obsessed with cycling. He owns an Italian bike and is obsessed with Italian cycling, insisting on eating pasta and even affecting the accent.
His family struggle to understand this fixation, but there are few CW readers that won't understand the lure that Italy has for bike riders.
>>> Colnago launches new V2-R aero bike
If you multiply aesthetic beauty by engineering excellence, the answer you get is 'Italy'. In the motorsport world this is exemplified by Ferrari, while in cycling Colnago, for many, sits right at the top of the pile.
From the outside, Colnago headquarters is, not unlike the products that emerge from it, understated but classy. Located in the sleepy neighbourhood of Cambiago on the outskirts of Milan, you could almost drive past without noticing it, or getting even a whiff of the treasure trove within.
Approaching the entrance, your eye might be drawn to the house over the road, whose wrought iron gates featuring the famous 'ace of clubs' are a dead giveaway — the man who lives here turned 85 this year and is who we've come to see. Ernesto Colnago himself.
Inside, the Colnago HQ feels every inch like a cycling Mecca. Reflected in the glossy floor are bicycles, framed jerseys, signed photographs and posters; there is even a nose cone from a Ferrari Formula One car hanging from the ceiling.
Ushered downstairs, you emerge into a wooden-floored basement room featuring plinths lining the three walls in front and to each side of us. Sympathetic lighting shows off yet more bicycles, from the latest carbon C60s to immaculately preserved vintage steel examples.
As we wait with anticipation for Ernesto himself to arrive (referred to respectfully as 'Mr Colnago' by those who work with him) we pace slowly along the displays, ruminating on each machine in turn in the sort of reverent tones you might reserve for a museum visit.
Finally, our appetite decidedly whet, all heads turn as a new face enters the room.
Small in stature but mighty in drive, achievement and reputation, Ernesto Colnago commands the room with an easy manner, and his sprightliness of movement totally belies his 85 years. This is not a man with even half an eye on retirement.
He gestures to a glass table at the side of the room and we all settle dutifully into our seats, Colnago facing us across the end corner.
He eyes me patiently over dark-rimmed glasses, waiting as I assemble the various detritus of my trade: notebook, dictaphone, pen. The rest of our small party — colleagues of both of us, including Colnago sales manager Mauro Mondonico who will be translating — watch carefully from around the table, looking on with what I sense is sympathetic curiosity, as if I was about to make a wedding speech.
I take a deep breath and fire off the opening salvo: "You were born into humble beginnings: was it always your dream to be a part of this business?"
Breath is held as Mauro translates my question, a small pause, and then collectively released as Colnago begins talking. It's quite a speech.
"I'm the son of farmers, born in poverty, eating polenta and drinking milk. But I had the drive in me to do something, to get out of the town of 2,500 people, to be someone," he begins. "I went to work in a workshop 72 years ago, a mechanic's shop that repaired farmers' tools and some bikes.
"After the war ended in 1945 I went to the local hall and played ball, where all the kids went, and I saw a sign that in Milan they were looking for youngsters to work. Among those jobs was a bicycle factory, called Gloria, on Viale Abruzzi in Milan."
Although, aged just 13, Colnago was technically too young to work, he explains. So he falsified his papers to add a year to his age and became an apprentice learning to weld cycle tubes. By the age of 17 he was in charge of a team of 13 people. "They assembled bikes until they were cooked," he recalls. "That was in the post-war era, the more you worked, the more you made."
As the 1950s dawned things began to move fast for Colnago. He left the security of the Gloria factory and set up his own premises, still sub-contracting for Gloria. In 1954, he finally put his name on a head badge and a legend was born.
The young Colnago also restarted his racing career, having broken his foot and spent 60 days in a splint a few years previously. In a serendipitous twist, it was this hobby that elevated him to the next level in his career as a cycle manufacturer.
"One day, I'm there next to Fiorenzo Magni, the third biggest cyclist after Coppi and Bartali. He asked me if I rode, I said, yeah, told him my story. After a while, 60 kilometres, we stopped for water and Magni was saying that his leg bothered him, he'd just received a new bike and the Giro was due to start in three days from Palermo.
"I looked at his cranks, something is wrong," continues Colnago. "We pass my shop. Magni says: 'you work in this place here? You can do it?' I turned my wrench, he rides, and his leg doesn't bother him anymore. The day after, he calls me that he wants me to be the mechanic at the Giro."
Trite as it sounds, the rest is history. Fierenzo Magni won that 1955 Giro, and Colnago's fate was sealed. He spent the following decade building his reputation both as a mechanic and a cycle manufacturer, and would make a huge leap forward in 1962 when he joined the iconic Molteni team as a mechanic. By 1968 Colnago sponsored the team, and its riders were winning on his bikes.
In 1970 Michele Dancelli won Milan-San Remo on a Colnago and the famous 'Ace of Clubs' head badge was born (see box), and by the following year Eddy Merckx, who was at the height of his career, was winning aboard Colnagos.
Ernesto Colnago had truly arrived. "If God gives something inside of you, and you accept it and don't reject it, it's yours," glares Colnago, thumping the table for emphasis. "I didn't have a camera or a computer, I had what I had inside of me. You see that in very few people. Enzo Ferrari, too. Today, to do something like that, from nothing... No one does it."
The world's most modest man he may not be, but you can't say he hasn't earned the right to blow his own cornetta.
"I had the luck of having the biggest riders looking for me. I served Magni, Coppi, Bartali, Merckx, Saronni, Ballerini…" reminisces Colnago. But he reserves his highest praise for Enzo Ferrari, with whom he shares a special bond and long working relationship.
"Ferrari is like a son," he says. "When I went there to make the first frame, that was in '85 or '86. They said I was crazy, going there with the Ferrari engineers. But Ferrari said that the bike is the most perfect machine that exists. An F1 car can go 300kph, but how many kilos does it weigh? A bike can go 80 downhill, but it's seven kilos! There's your difference!"
Together the pair became pioneers of carbon frame design, with Ferrari applying Formula One-level expertise and technology to Colnago's ideas. Their first creation, however, didn't make it onto the production line, while the ones that followed soon after were exclusive and out of the reach of the average cyclist. But they had explored important ideas and techniques, some of which are still used in carbon cycle manufacture.
Listening to Colnago, it is clear that innovation is close to his heart. While for many cycling followers the brand 'Colnago' conjures up the famous wins of the past captured in faded photographs, Ernesto himself is singularly forward looking and inventive.
"One important thing," he says, "Ernesto Colnago never copied anything from anyone. Everyone copied from Colnago! The steel-fluted tubes, Colnago did that, the Master. The straight fork, Colnago did that. The drilled-out chain, Colnago did it. Before, the wheels were 36 or 40 spokes, Colnago took it to 28, 24 spokes."
It's clear he is proud of himself and his brand, and he doesn't hold back when saying so, but alongside all the innovation and the glory, Colnago is a fiercely altruistic individual. He talks passionately about those he has helped, from donating bikes to cash-poor foreign teams, to giving machines to kids affected by Italy's recent earthquake. Over recent years Colnago has been proud of the part he's played in nurturing young talent by sponsoring smaller cycling teams — though his bikes are still winning at WorldTour level, this season under the riders of UAE Team Emirates.
"The fortunate thing," he says, returning to the subject of his work ethic, "is that I'm still the same person as when I began. I have no plans for retirement. I wake up early, 6.30, I sleep about four to five hours. In the brain, there's space for forgetting things and creating things. We all have problems. There's a proverb that says every roof has a shingle broken. Everyone has his problems."
It's a slightly cryptic diversion, but you get the impression Ernesto Colnago is not a man who stands still for long, whether in action or thought, his brain constantly searching, hypothesizing...
But for all his brand in the present day represents industriousness and innovation, it's hard to get away from those images of the past — the ones on which Colnago has built its prestige, its story: Michele Dancelli winning Milan-San Remo in 1970 as Colnago stands tall in the team car behind; Eddy Merckx setting a new Hour record in 1972; Beppe Saronni winning the Worlds at Goodwood in 1982 and laying the groundwork for a whole new series of Colnago bikes with an iconic colour; Johan Museeuw winning Paris-Roubaix in 1996 flanked by two Mapei cohorts — the list is a long one, and the Colnago story will always be about the past as well as the future.
How would he most like people to see his brand — prestigious and steeped in history, or innovative? His reply is quick, simple and characteristically philosophical. "Look at that picture," he says, gesturing to a framed image of a bicycle on the wall with an inscription underneath. "I didn't write that. Ferrari did, 'Seriousness, accountability'. That's the same for Colnago."
Thank you for reading 20 articles this month* Join now for unlimited access
Enjoy your first month for just £1 / $1 / €1
*Read 5 free articles per month without a subscription
Join now for unlimited access
Try first month for just £1 / $1 / €1