CONTADOR TO STAY WITH ASTANA AND ARMSTRONG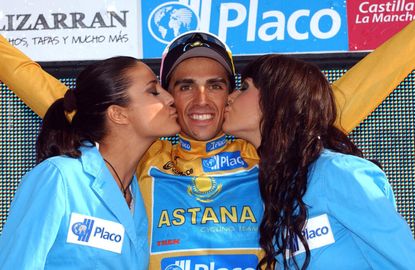 Alberto Contador has confirmed that he will continue to race with Astana in 2009, and that any issues he had over Lance Armstrong?s comeback in the team have now been settled.
A month ago, Contador?s future in Astana looked uncertain, with the Spaniard expressing doubts about how he could co-lead a team with Armstrong.
Now, however, Contador?s tone has changed completely. He has met Astana?s team manager Johan Bruyneel and is now satisfied that his status within the squad will not be threatened.
?We will have a meeting in Tenerife at the end of November and we?ll talk with the management so we can avoid any type of controversy,? Contador claimed.
?I?m not going to get stressed about anything. We?ll just be two more names in the roster.
?Everything will resolve itself more easily than seemed possible when I first heard about Armstrong?s comeback.?
Although Contador says he?s delighted that Armstrong is riding the Giro next May, reading between the lines he doesn?t appear to be at all convinced that the American may only target one major stage race in 2009 - as Armstrong has hinted may be possible.
In fact, in the interview Contador?s press office released on Saturday, he takes for granted that Armstrong will be racing the Tour de France as well.
?With good management there shouldn?t be any problems in July.?
?When it was proposed that Armstrong win his eighth Tour, I thought it would be difficult for us to ?co-habit? [share the team leadership].?
?But I?ve met with Bruyneel, sorted out what has been published in the press in the last couple of months and eliminated any possible source of tension.?
?So I?m going to continue racing in Astana, because they?ve always supported me 100 percent.?
Contador?s early season will be similar to 2008?s, meaning he won?t coincide with Armstrong at the American?s first race of the season, the Tour Down Under.
Instead, the Spaniard will start racing in the Tour of Valencia in mid-February, before going on to Paris-Nice, (which he could not race this year) the Tour of Castille y Leon and the Tour of the Basque Country. Contador has won all of these races bar Valencia in the past.
Curiously, Contador does not rule out riding the Tour of Italy, where he would also coincide with Armstrong. However, Contador has said he wouldn?t do the Giro at 100 percent of his condition - although Contador was hardly in top form when he rode and won cycling?s second biggest stage race this spring.
Regardless of how many races he ends up doing with Armstrong, Contador may end up racing with the Texan for more than one season. Contador?s contract with Astana currently runs until the end of 2010 and the American has not ruled out continuing beyond next July.
Thank you for reading 20 articles this month* Join now for unlimited access
Enjoy your first month for just £1 / $1 / €1
*Read 5 free articles per month without a subscription
Join now for unlimited access
Try first month for just £1 / $1 / €1