Controversial 'suicide' sticker sparks social media debate over filtering up inside of traffic
Sticker has now been removed from Openreach van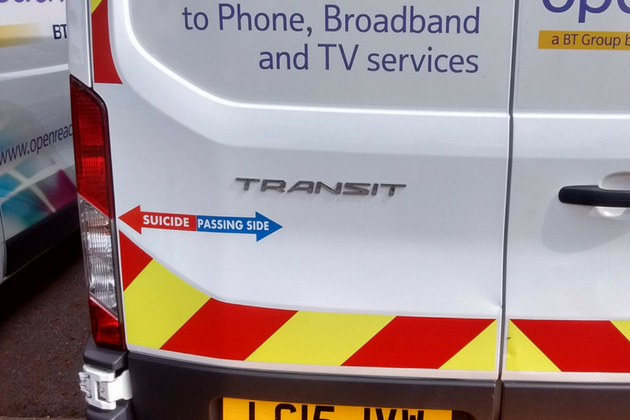 Telecommunications company Openreach has sparked a social media debate after a sticker on one of its vehicles seemed to equate cycling up the inside of traffic with committing suicide.
The sticker, which was spotted on the back of a vehicle in Nottingham by Twitter user Kimberley Tew, has two arrows: one pointing to the right of the vehicle labelled "passing side", and the other pointing to the left of the vehicle labelled "suicide".
>>> Watch: Undertaking cyclist being hit by turning car sparks debate over who was in the wrong
Although not recommended by British Cycling and other groups, there is nothing in the law or the Highway Code to prohibit riding up the inside of vehicles, with rule 160 saying that motorists should "be aware of other road users, especially cycles and motorcycles who may be filtering through the traffic."
Openreach responded on Twitter to apologise for the sticker, although not all on the social media network were entirely against the sticker.
>>> Nine reasons why commuting by bike is surprisingly brilliant
Some users described the sticker as "shocking", "dreadful", and "victim blaming", while others, including cyclists, didn't see so much wrong, saying that the sticker "highlights the risk of filtering on the left" of which "lots of riders are unaware.
When contacted by Cycling Weekly, an Openreach spokesperson said: "Road safety is absolutely paramount at Openreach and we're sorry if this caused any distress.
"The sticker was put on one of our vans by a cyclist with the best intentions, but it doesn't adhere to our policies so we'll be removing it immediately."