Cooper announces new range of bikes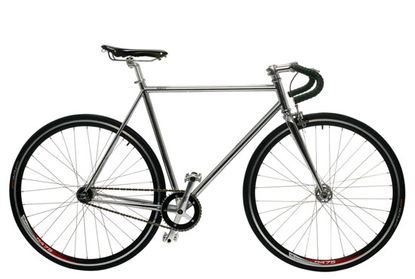 Cooper Bikes, the two-wheel division of the Cooper Car Company, has announced a new range of bikes, due for release this autumn.
The brand was launched at last October's Cycle Show in London and has since enjoyed success with its retro-styled range. The British company's bikes have been exported to 26 countries since launch, and are available from stockists in the USA, China, Japan and Australia.
All of the new models take their name from motor racing tracks on which Cooper cars used to compete.
"With this new line we wanted to introduce a wider range of people to Cooper Bikes," said Cooper chairman Mike Cooper.
"The
T250 Aintree in particular is our first unisex bike, which we hope will
help integrate us into the female market. Also the Aintree and
Zandvoort have five gears and three gears respectively so combine sporty
performance with comfortable urban riding."
T250 Aintree
The Aintree is Cooper's first foray into the 'unisex' market, and features five gears. Frame is made of Reynolds 531 steel and comes with black Brooks saddle.
T100 Spa (pictured above)
Distinctive-looking bike finished in a highly-polished shine. Comes with British racing green bar tape and Brooks saddle.
T100 Zandvoort
Equipped with three-speed Sturmey Archer hub and is designed for leisure and commuting.
Cooper will again have a stand at this year's Cycle Show at Earl's Court, London, from October 8-11.
External link
Thank you for reading 10 articles this month* Join now for unlimited access
Enjoy your first month for just £1 / $1 / €1
*Read 5 free articles per month without a subscription
Join now for unlimited access
Try first month for just £1 / $1 / €1