Could this seldom-used bus lane be transformed into segregated cycleway? (video)
A 200m stretch of bus lane in Hackney, London, is used by fewer than 5% of buses on the route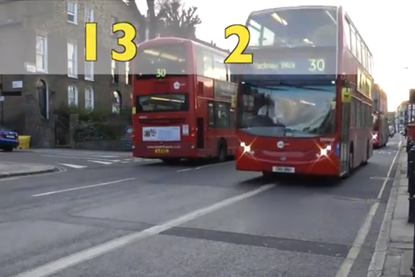 Bus lanes are often a haven for inner-city cyclists and commuters, but the buses themselves pose one of the biggest nightmares for those on two wheels.
Some bus lanes, however, are pretty redundant, with so few buses using them they could easily be done away with. Londoner Brian Jones has found a 200m stretch of bus lane in Hackney that could easily be turned into a segregated cycleway.
>>> Edinburgh cyclists slam proposed bus lane changes
Jones camped out on Balls Pond Road, between Cannonbury and Dalston Junction during rush hour on the evening of March 27. He recorded just how many buses actually used the stretch, which could form part of the proposed Cycle Superhighway 1.
What he found was that of the 31 buses that passed by, only three actually used the lane, with the 28 others pulling out to use the main highway along with the cars. Jones also noted that the three buses that did use the lane did not need to as the traffic was not heavy.
>>> Leicester road proposals include segregated cycle lanes
According to the video, Transport for London itself acknowledges that few buses actually use the lane.
Are there any other seldom-used bus lanes that you think could be transformed into cycleways? Let us know on Facebook or Twitter.
Thank you for reading 20 articles this month* Join now for unlimited access
Enjoy your first month for just £1 / $1 / €1
*Read 5 free articles per month without a subscription
Join now for unlimited access
Try first month for just £1 / $1 / €1