Cycle commuters and walkers have the shortest daily journeys, according to new study
But all kinds of commute take longer than a decade ago...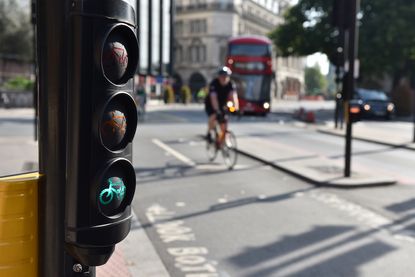 (Image credit: Getty Images)
Cycle commuters and walkers have the shortest commuting times, according to a new study.
Research by the Trade Union Congress (TUC) has found that journey times for all commuters have increased in the last 10 years, including for cyclists and walkers.
But cyclist journeys are shorter, with riders travelling for almost 10 minutes less every day than drivers.
>>> Maximise the benefit of your commute
The study found that the average annual commuting time for all kinds of journeys was up 18 hours when comparing 2007 data to 2017.
Chief executive of employment campaign Work Wise UK, Phil Flaxton, said: "Long commutes have become a part of the UK's working culture.
"But the excessive time spent commuting is one of the main factors contributing to work-life balance problems.
"Not only is the time spent commuting an issue, the nine-to-five culture with its peak travel times generates congestion.
"And the rush-hours on railways, underground and road networks increase stress for commuters."
>>> Cyclist says 'I'm going to die at this roundabout' after filming near misses
Cyclists spend an average of 44 minutes commuting every day, while walkers spend 29 minutes travelling to work.
Car commuters are now travelling for 52 minutes each day, while train users have the longest commutes at more than two hours.
There has been an increase in journey times across the board when compared with a decade ago.
Cycle journeys now take six minutes longer every day than in 2007, while driver's journeys have increased by three minutes.
The TUC put the increase in commute times down to three factors – low government spending on transport infrastructure, employers not offering flexible working and real wages falling while house prices rise, which makes it harder for people to live near their work.
Research was carried out by the TUC, who analysed data from the Office for National Statistics Labour Force Survey.
Daily journey times across all modes of transport have increased from 53.6 minutes per day to 58.4 on average, a yearly increase of 18 hours.
Average commute times are highest in London at 80 minutes, followed by the east of England and the south east at 62 minutes.
The quickest journey times are in the north east – an average of 51 minutes.
Thank you for reading 20 articles this month* Join now for unlimited access
Enjoy your first month for just £1 / $1 / €1
*Read 5 free articles per month without a subscription
Join now for unlimited access
Try first month for just £1 / $1 / €1