Cycle lane upgrades for easier use of A-roads gets under way in the North West
Improvements should make it safer and easier for riders to use busy A-roads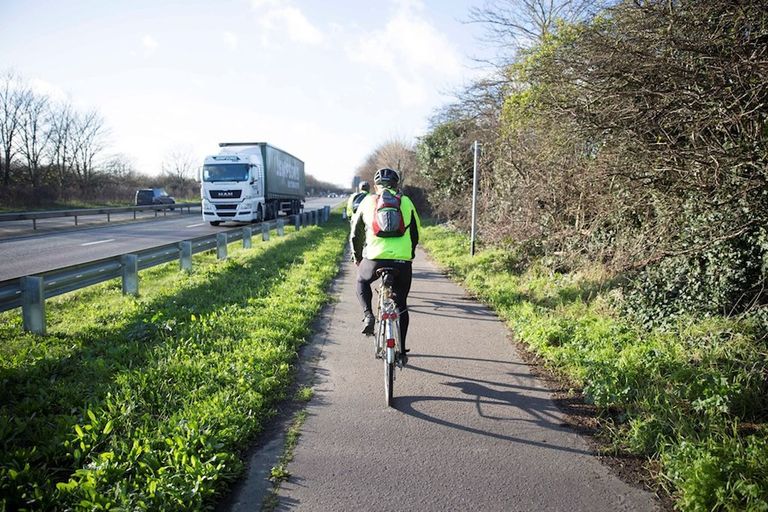 (Image credit: Highways England)
A popular cycle route in the North West of England will be upgraded as part of ongoing plans to make it easier for riders to use major A-roads and cross motorway junctions in the UK.
The A574 Birchwood Way near Junction 21a of the M6 in Warrington, will receive improved safety barriers, additional lighting and cycle signs when work starts on Tuesday, March 20 for two weeks.
>>> London roads 'too dangerous' for children to cycle on
Diversions will be provided for cyclists as development takes place along the northern side of the A574 Birchwood Way between Crab Lane and Lowes Farm Subway.
The new facilities are designed to be safe, separate from traffic and can be used by cyclists of all abilities.
Highways England, who will look to improve over 200 cycle routes nationwide in the next five years, will undertake the work.
Project manager Phil Tyrell said: "The improvements we're making to the A574 will make it easier and safer for cyclists to cross the bridge over the M6, travelling between Birchwood and Warrington.
>>> YouGov poll shows huge public support for segregated cycle lanes
"Cycling is growing in popularity both for commuter and leisure riders, as people look for ways to improve their health and reduce their impact on the environment," he added.
Birchwood Way is one of more than 40 schemes due to be completed by Spring 2016.