Our pick of the best cycling events to do this summer
Winter is a distant memory and it's time to reward yourself for training through the gloom. Select one of these summer events and let the good times roll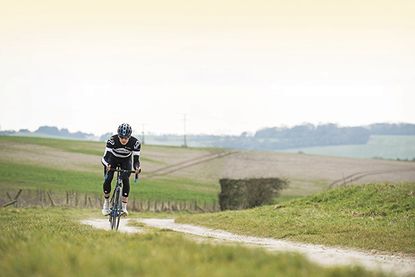 (Image credit: Roo Fowler)
Get The Leadout Newsletter
The latest race content, interviews, features, reviews and expert buying guides, direct to your inbox!
Thank you for signing up to The Pick. You will receive a verification email shortly.
There was a problem. Please refresh the page and try again.
Wilier White Roads Classic
Sunday July 22 | £29 | 128km
Most UK sportives follow a similar tarmac based- format, leaving those looking for a bit of variety heading to Europe for sportives that take in the cobbles of Flanders or the route of the Strade Bianche Classic. But don't book your flight for the latter until you've seen the route of the Wilier White Roads Classic that takes in 25 kilometres of white gravel and chalk roads around the Ridgeway in Oxfordshire and is reminiscent of the great Italian event. www.cycleclassics.co.uk/white-roads-classic-sportive
I did it: Iain MacGregor, author of To Hell on a Bike
The white gravel sectors, which mimic the sterrati (dirt roads), have been carefully selected so that they are generally taken in the downhill direction, where the chalk Ridgeway descends to the Thames at Goring and Streatley.
This means they can be ridden fast in a high gear, with enhanced sensations of speed over the rough surface. This is in line with the general aesthetic of Cycle Classics, with routes designed to amplify and intensify speed. The landscape is sparse and austere, with minimal vegetation — wide-open grassy slopes with a few scattered trees.
The White Roads are hot, arid and dusty in July, and the riders throw up white dust clouds as in Paris-Roubaix and the Strade Bianche. As with the Giro's Colle delle Finestre, the White Roads provide a link back to earlier days of road racing.
Tour de Môn
Sunday August 19 | £23.99-39.99 | 46-107 miles
Taking place on the Welsh island of Anglesey, the Tour de Môn isn't on most people's radar but the quiet roads and rugged coastline are all strong draws. Aside from the punchy climbs that will come your way on the Mawr, Canol and Bach routes, the ride also features the High5 'Flying Mile' on RAF Mona — a timed section down the pan-flat runway with superb views of Snowdonia. Thanks to its start near Holyhead, getting the boat over from Ireland provides an easy point of access for cyclists. www.alwaysaimhighevents.com/tour-de-mon
I did it: Cefin Barton
This is the annual 'must do' sportive for cyclists of all abilities, with stunning coastal scenery, event organisation, support that's second to none and feed stations containing all you need.
The 108-mile 'Mawr' route takes in Anglesey's beautiful scenery including a quick ride over the famous Menai suspension bridge before heading back up toward the more rugged north coast of the island. The 'Mawr' also takes in over 6,000 feet of climbing. It ain't flat! But there are 76 and 44-mile options for just as enjoyable but shorter day in the saddle.
Farnham Festival of Cycling
Sunday July 8 | £20-30 | 16-75 miles
With a bumper programme of sportives in the morning and town-centre races in the evening, the Farnham Festival of Cycling has something for everyone. The four sportive distances — 16, 25, 50 or 75 miles — all start and finish in Farnham, Surrey.
The 75-mile route features 5,400 feet of climbing while the two shorter routes are more family-friendly and children under 16 can ride for free. The evening races then kick off before three senior criteriums conclude proceedings. www.farnhamfestivalofcycling
Watch the pros on British soil: Tour of Britain
Taking in a summer of cycling isn't just about hitting the road yourself; spectating at the roadside watching the elite riders put themselves through the pain is just as exhilarating.
The Tour of Britain is the highlight of the British road calendar and an essential preparation race for any rider with their eyes on the World Championships. September 2-9
14 kilometre team time trial up the Whinlatter Pass will be pivotal to the race's outcome
10 WorldTour teams have been confirmed for the start line in Pembrey Country Park
13 per cent climb of Challacombe on stage two could see the race-winning move
1.2 per cent of the Tour of Britain's race distance will be held against the clock
Nine different nations are represented in the 14 winners of the modern Tour of Britain
The Three Peaks Cyclo-Cross
Sunday, September 30
The Three Peaks (Sunday, September 30) is one of the most revered events on the British calendar with a fearsome reputation that spreads far beyond these shores. The entry requirements highlight the race's unique challenge and the mix of skills necessary to ensure completion, let alone a high placing.
Entrants are asked to list previous experience of such events to confirm they're able to cope with the harsh terrain, meet cut-off times and survive in upland environments. Navigation and first-aid skills are prerequisites for entry. A few wins at your local cross league will not guarantee you a spot. www.3peakscyclocross.org.uk
What makes the Three Peaks great?
Nick Craig — three-time winner – gave us his thoughts on the event: "I remember when I first beat my dad. It was a horrible wet year and I was on my way down Pen-y-ghent as he was on his way up. I stopped and gave him my cape and any food I had. It was a moment when the roles changed from my dad being the one that was always stronger than me to actually beating him.
>>> Paul Oldham's modified, Three Peaks winning Scott Addict CX
"On paper it doesn't look that hard, someone from Europe looks at the profile and thinks, 'Yeah that can't be that hard, we live in the mountains.' But it really is. The first climb up Ingleborough is so painful on the calves, when you get to the top you think, 'I can't do these other ones.'
"Whernside isn't much easier but Pen-y-ghent is more rideable. The funny thing that people talk about is when you hit the road near the end and all you have to do is ride to the pub. There's a very slight drag and everyone gets cramp riding up it. We call it the Col de Helwith Bridge — it's the most horrific 10-metre climb you have ever been up.
"When my team-mate Stu Bowers, who used to work at Cycling Weekly, rode the Three Peaks for the first time he finished fifth. His training consisted of walking 11 floors at CW's old office wearing a heavy backpack. If your training can be done in Croydon it can be done anywhere.
"It's one of those events where the atmosphere builds up at the finish. Everyone is relaxed and telling their tales of what went wrong and the commentator is hilarious because you can hardly tell what he said.
"You always say 'never again' but as soon as the entries come out people just want to come back. It's such a good event, I hope they can keep it going because it's a classic. It's a gravel race to the extreme."
European Championships in Glasgow
Sunday-Wednesday, August 1-12
In what is a relatively new event on the road cycling calendar, the European Championships are growing in reputation with Peter Sagan and Alexander Kristoff taking the first two European road titles since it changed from an under-23 to a full international event. A new champion will be crowned on the streets of Glasgow on Sunday August 5.
You can also see some of Europe's best track cyclists fight it out in the Sir Chris Hoy Velodrome, with tickets still available for all sessions. The championships were originally just a cycling competition but different sports federations are combining to create a 'mini Olympics'. This year the 11 days of competition bring cycling, aquatics, golf, gymnastics, rowing and triathlon together. www.glasgow2018.com/bethere
The Southern Sportive
Sunday September 9 | £32 | 100 miles
Starting and finishing in Petersfield, this 100-mile foray through Hampshire and West Sussex features a relentless catalogue of lumps and drags, with some challenging climbs thrown in.
There are tunnels of green and some lovely late-summer scenery on offer. Organisation is top-notch, and the length and elevation will challenge even the fittest rider. There are also 114km and 73km options for a shorter day out. www.southernsportive.com
Epic rides
The allure of long endurance or multi-day events is the challenge of putting your body through mental and physical stress over a long period of time.
However, two of the crucial factors that will help you maintain peak performance over the course of hours and days are nutrition and recovery, as Pav Bryan at Direct Power Coaching explains: "Endurance and multi-day events are won or lost on how you fuel. Get it right and your body will be a well-oiled machine, capable of churning out the many hours in the saddle.
Get it wrong and you could be in for some rather unpleasant issues!
"I always ask my athletes to question themselves when thinking recovery; will the next decision they make help or hinder it? Cool down, stretch, refuel and rehydrate and if you can, get some sleep. If you can't, try to get your feet elevated. Ice or salt baths, compression wear and other devices may help."
Bryan cautions against relying too much on caffeine to amp up performance: "I'm not a fan as you'll have to top it up constantly to delay the inevitable crash. You also run the risk of needing extra toilet breaks. Save it for towards the end when you really need that pick-me-up."
Deloitte Ride Across Britain
September 8-16 | £449-£2,499
If you are looking for a multi-day challenge on home soil then this event may be just up your street. Starting from Land's End, pre-planned routes of approximately 100 miles a day will guide you up the length of Britain, with options to do just the five-day England or four-day Scotland legs. www.rideacrossbritain.com
>>> Eight of the best British hill-climb events this year
Revolve24
September 15-16 | Brands Hatch | £45-195
Now in its fourth year, the Revolve24 gives cyclists the opportunity to try their hand at endurance cycling in an enclosed environment with six and 12-hour distances also available for those not wanting to jump up to the full
24 hours. www.revolve24.com
Red Bull TimeLaps
October 27-28 | £200-250 per team
It's rare that you get the chance to ride a 25-hour race. Riders are allowed a 'power hour' where every lap of the course completed will count as double. www.redbull.com/gc-en/events/timelaps
Ride with the pros
Condor Cycles 70th anniversary ride
Sunday July 8 | £50 | 35-70 miles
If you want the experience of riding with an entire team then JLT-Condor will be celebrating the 70th anniversary of Condor Cycles in Staffordshire. Once you have finished your ride you can relax and enjoy a celebration lunch and beer on Chillington Hall Estate Lawn and watch the second stage of the Tour de France on a big screen. www.condorcycles.com/pages/condor-70th-anniversary-festival
Rise Above with Cav
Sunday August 5 | £45 | 50-150 kilometres
Getting a chance to ride with the most successful British sprinter in Tour de France history isn't something you get to do every day so the sportive that bears Mark Cavendish's name is one not to be missed. Starting and finishing at Cheltenham Racecourse, all three routes take in the stunning Cotswolds landscape and are apparently designed by
Cav himself. www.riseabovesportive.com
Marcha Cicloturista Alberto Contador
Saturday September 29 | €50 | 167km
He may have retired from pro cycling, but El Pistolero's 167km sportive will give you a chance to ride alongside the seven-time Grand Tour winner and other leading figures in Spanish cycling over the hills of south-eastern Spain. www.marchaalbertocontador.com
Overseas events
Haute Route Dolomites 3-day
September 21-23 | €645 | 264.8km over three days
This is the closest to stage racing in a professional environment that an amateur rider can get, with the high level of organisation from the formidable Haute Route machine giving you the full pro experience whether you choose a three or seven-day event.
With timed stages, accommodation and everything else provided you can concentrate on your riding. When you are in the Dolomites for three days you can guarantee one thing — climbing
and lots of it! www.hauteroute.org
Wiggle Le Tricolore Sportive
Sunday September 30 | £75 | 62-86 miles
This sportive is one with a difference as it starts in Dover, takes in over 60 miles of French countryside after a ferry ride over to France before a return journey back to Blighty. All without the need to try out your splintered French accent on bewildered locals. www.ukcyclingevents.co.uk
I did it: John Rooke
I drove down the day before, stopped over and tried to get as much sleep as I could before the 4.30am check-in. It was quite an early start but it was a fabulous day out. The weather in Dover was really grotty and we got to Calais and it was clear blue skies, no wind and just perfect.
It was a very different experience, with cycling on the other side of the road and the food stops that are more French-themed with brioche and baguettes.
L'Ariégeoise Cyclosportive
Saturday June 30 | €49-68 | 74-172km
With just under 4,500m of climbing on the XXL route, it's pretty much guaranteed L'Ariégeoise will test the most experienced cyclists as you wind your way around the Pyrenees with a final climb up to the ski resort of Beille
at 1,800m. www.cyclosport-ariegeoise.com/cyclosportive-lariegeoise-english
>>> Training for a 100-mile sportive: tips to get you from 60 to 100-miles
Granfondo Gottardo
Sunday July 22 | CHF60-70 | 42-113km
Ride the Swiss Alps and the iconic granite pavé of the San Gottardo Pass; add in two climbs above 2,000m and you've got a truly epic day's riding. www.granfondosangottardo.com
L'Eroica Italy
Sunday October 7 | €100 | 46-109km
If you missed out on L'Eroica Britannia earlier this summer, then you can still get your retro fix overseas in Italy in early October. Over the classic white roads of northern Italy, all the routes start and finish in Chianti, where you can reflect on your ride at the Eroica festival. www.eroicagaiole.com
Thank you for reading 20 articles this month* Join now for unlimited access
Enjoy your first month for just £1 / $1 / €1
*Read 5 free articles per month without a subscription
Join now for unlimited access
Try first month for just £1 / $1 / €1
Get The Leadout Newsletter
The latest race content, interviews, features, reviews and expert buying guides, direct to your inbox!
Founded in 1891, Cycling Weekly and its team of expert journalists brings cyclists in-depth reviews, extensive coverage of both professional and domestic racing, as well as fitness advice and 'brew a cuppa and put your feet up' features. Cycling Weekly serves its audience across a range of platforms, from good old-fashioned print to online journalism, and video.