Cycling groups welcome AA's Think Bike campaign
Motoring organisation AA launches 'Think Bike' safety campaign aimed at raising awareness of cyclists and motorcyclists on Britain's roads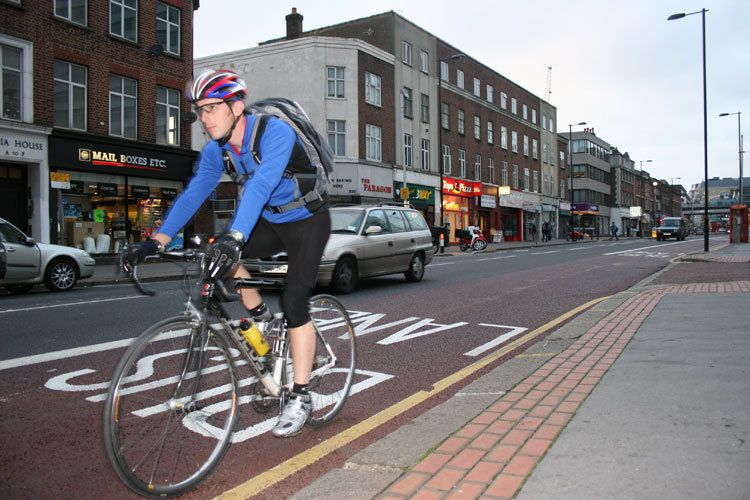 The AA has today launched a Think Bike campaign to promote better awareness of cyclists and motorcyclists on the roads, along with new polling data showing 55% of drivers are often 'surprised when a cyclist appears from nowhere'.
The figures, obtained from a poll of 17,629 drivers, also show 93% of drivers sometimes find it hard to see cycles, but similarly 93% recognise cyclists are vulnerable and always give them space on the roads.
The campaign, supported by British Cycling, police and the Motorcycle Industry Association, will see a million free wing mirror stickers distributed to drivers, encouraging them to check blind spots for cycles (nearside mirror) and motorcycles (offside mirror).
Edmund King, AA president, said: "The AA Think Bikes campaign is definitely needed when half of drivers are often surprised when a cyclist or motorcyclist 'appears from nowhere'. Those on two wheels never appear from nowhere so as drivers we need to be more alert to other road users and this is where our stickers act as a daily reminder. Likewise riders need to be aware that they may not always be spotted by drivers. We hope that this campaign can reach the parts that other campaigns can't reach."
"Greater awareness alongside education, enforcement and improved infrastructure will make our roads safer for all."
The social media-ready campaign, with the hashtag, #thinkbikes, and tagline 'Think once, think twice, think bike', comes with a video of a naked man cycling around central London, with Edmund King saying: 'if you don't use your mirrors, you don't know what you're missing'.
During a Parliamentary Transport Committee inquiry last month, King said he would like to see a national campaign promoting mutual respect between those in cars and those on bikes, adding 20% of his members cycle regularly and that every AA learner driver takes a cycle awareness module.
Chris Boardman, British Cycling's policy adviser, says: "This move by the AA – Britain's largest motoring organisation – is a welcome step in creating a culture of mutual respect between all road users. We know that cyclists and drivers are often the same people – nine out of 10 British Cycling members also drive a car. This sticker campaign reflects the importance of looking out for everyone on the road, regardless of what form of transport they use.
"Looking left and giving way to cyclists is a crucial part of improving safety on the roads. This is what happens on the continent and it should become part of our culture too. Of course, this rule is already written into the Highway Code – we just need to ensure that people are following it."
Chief Constable Suzette Davenport, National Policing Lead on Roads Policing, congratulates the AA and urges drivers to get the stickers, use them and play their part in keeping our roads safe.
The London Cycling Campaign also welcomes the Think Bike campaign. LCC Chief Executive Ashok Sinha says the most important thing is to design safer streets like the Netherlands that minimise the risk of collision between motor vehicles and cyclists but in the meantime campaigns to promote responsible driving are important in helping reduce danger to cyclists.
http://youtu.be/AlGmiHKCDI4
Advertising Standards Authority bans road safety campaign advert by Cycling Scotland due to helmetless rider, branding it 'irresponsible'