Cycling does not affect men's sexual health, new study finds
New research shows that male sexual health is not affected by cycling, going against the findings of previous studies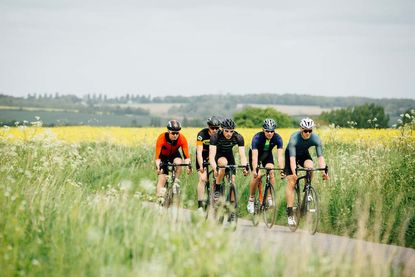 New research undertaken into the way in which cycling could affect male sexual health has found that it does not have a negative effect in comparison to other sports.
Previous studies have concluded that cycling could affect urinary function and sexual health in men, but research undertaken by the University of California and published in the American Journal of Urology found that cycling was no worse than swimming or running.
The researchers gathered responses from over 5,000 respondents via Facebook, which included cyclists, runners and swimmers and used just under 4,000 responses for the study, of which 2774 were cyclists.
Responses were collected from people in the US, Australia, New Zealand, Canada and the UK.
>>> Can cycling help your sex life? (video)
Cyclists were separated into two groups depending on how much they rode: a 'low intensity' group of regular cyclists and a 'high intensity' group who cycled more than 25 miles three days per week on average for two years or more.
They were asked a series of questions relating to sexual health, prostate problems, urinary tract infections, genital numbness and saddle sores – among others. They were also asked how often they cycled, what saddle they used, angle of saddle, handlebar height and type of shorts used.
http://www.youtube.com/watch?v=leLgmwcz0dU
After collating the results, researchers found that there were "no significant differences" between the sports. However, they did find that "Cyclists had statistically higher odds of urethral stricture [narrowing of the urethra] compared to swimmers/runners".
It was also found that position on the bike affected the probability of encountering problems, concluding that "increased time standing while cycling [20 per cent of the time] and a higher handlebar height were associated with lower odds of genital sores and numbness."
Lead researcher Dr Benjamin Breyer of the Department of Urology, University of California–San Francisco said: "We believe the results will be encouraging for cyclists. Cycling provides tremendous cardiovascular benefits and is low impact on joints. We believe the health benefits enjoyed by cyclists who ride safely will far outweigh health risks."
Thank you for reading 20 articles this month* Join now for unlimited access
Enjoy your first month for just £1 / $1 / €1
*Read 5 free articles per month without a subscription
Join now for unlimited access
Try first month for just £1 / $1 / €1