Cycling resolutions: Five things to do in 2016
New Year's resolutions don't always have to mean sacrificing things, you can vow to make the best of your time on the bike instead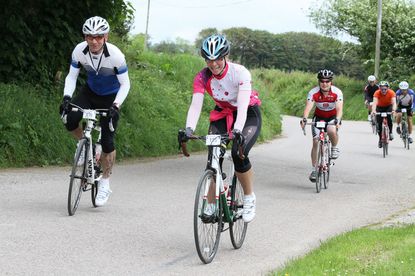 (Image credit: Phill O'Conner)
It's that time of year when we make a host of wild comments about eating and drinking less in the coming year, losing that Christmas paunch by doing more exercise or cutting out the cigarette you have with your coffee.
Come New Year's Day, however, such assertions are soon forgotten as you reach for that extra chocolate from the tub while sipping on your third glass of wine.
But if you want to set yourself some targets without giving up too much of the good stuff then set yourself some cycling resolutions. Here's just a few to get you started.
1. Set yourself a challenge
Whether its distance, altitude, speed or time, there are plenty of opportunities to challenge yourself in 2016.
For many riders these challenges will be attempted (and hopefully accomplished) during one of the hundreds of sportives around the country, but who's to stop you from simply deciding one weekend to complete your first 'century' ride?
An upcoming challenge is a great motivation when it comes to going out on training rides and can often give your Saturday morning pootles a bit more structure and meaning
Just remember to doff your cap to the crowd when you reach whatever milestone you're aiming for.
>>> 17 of the best international sportives to ride in 2016
2. Give your bike a bit of TLC
You've just got back from a long ride in conditions so horrendous that you'll be regaling the story to family and friends for weeks - the last thing you want to do is go back outside to clean your bike.
But leaving your pride and joy in the garage/shed/hallway covered in mud for any length of time could reduce the life expectancy of some of its components.
>>> 11 bike maintenance mistakes and how to avoid them
Obviously, not wanting to contract pneumonia or trench foot comes slightly higher in the pecking order of priorities, so the bike can wait until you're warm and dry. Then get out a sponge, some brushes and soapy water and get the worst of the mud off your frame, chain and wheels.
The chain and the cassette are two things to pay a particular attention to after a muddy ride, making sure they are clean and well lubed mean you don't have to worry about doing it before your next ride.
3. Give yourself a bit of TLC
It's not just your bike you have to look after, and to really be at one with your bike you need to uphold your end of the bargain as well. One of the easiest ways to keep yourself in the right condition to get the most out of your machine is to do regular stretching and some basic bodyweight exercises.
>>> Neck pain after cycling? Try these exercises for upper body relief (video)
These can be done in the comfort of your own home while you wait for your morning coffee to brew or as your dinner is cooking in the evening and don't require any equipment. With the best exercises designed to improve your core strength you will be able to feel the benefits when you get back in the saddle.
>>> Time saving stretches for cyclists (videos)
4. Learn some basic mechanical skills
If, like me, you've spent many an hour tinkering with your bike to fix an ailment that a mechanic would be able to sort in a matter of seconds then it could be worth brushing up on a few basic skills to give your machine the once-over before a ride.
Adjusting your brakes, replacing the cables or tuning your gears - all seemingly easy things that can make your riding experience better. So pick up a maintenance book, watch some videos online or simply ask your local mechanic to explain the procedure in and hopefully save yourself some bother next time you get the spanner set out.
5. Go on a cycling holiday
Riding the same roads in your area can get a little dull, especially when you've conquered all of the local Strava segments, so a change of scenery could be the thing to reinvigorate your passion for peddling.
A few days away from your patch can also ease you out of your comfort zone by forcing you to climb hills, or even mountains, that you wouldn't be able to do at home. Again, doff your cap when you win the race to the top.
Thank you for reading 10 articles this month* Join now for unlimited access
Enjoy your first month for just £1 / $1 / €1
*Read 5 free articles per month without a subscription
Join now for unlimited access
Try first month for just £1 / $1 / €1
Stuart Clarke is a News Associates trained journalist who has worked for the likes of the British Olympic Associate, British Rowing and the England and Wales Cricket Board, and of course Cycling Weekly. His work at Cycling Weekly has focused upon professional racing, following the World Tour races and its characters.