Cycling safety demonstrators knocked down by a bus in Helsinki
On a ride to protest the death of a cyclist in an alleged road rage incident, several riders are knocked down and involved in a physical altercation with a bus driver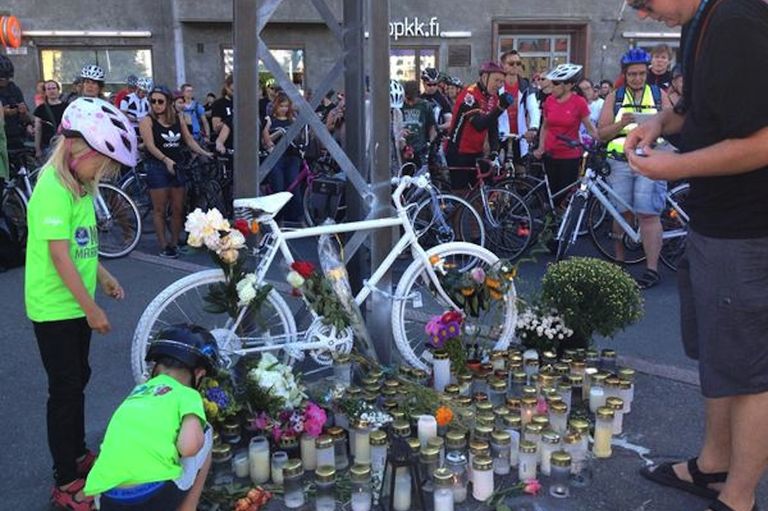 An 850-strong cycling safety demonstration in Helsinki turned sour on Sunday as riders clashed with a bus driver who tried to drive into the lane the cyclists were in.
The riders gathered in the Finnish capital to honour the death of a cyclist in the city the previous week, with the 'march' travelling from the Kiasma Museum to downtown.
>>> Cycling club plans to honour member stabbed to death in 'road rage' incident
According to Finnish news service YLE, the bus driver tried to merge into the same lane as the cyclists, causing some of them to fall to the ground. Helsinki Police report that the confrontation escalated when the driver threw a cyclist's bike under another bus, which prompted another rider to take the driver's keys from his hand leading to a fist fight.
One participant, Tuomo Reine, told YLE that this sort of behaviour was exactly what the demonstration had been against. The victim of last week's incident was allegedly run down deliberately by a motorist after he criticised his driving.
>>> Café owner involved in Richmond road rage apologises for his actions
The driver of the bus is being investigated by police for traffic endangerment, as well as mild property damage and assault, while the cyclist who took the driver's keys is also being investigated for traffic disruption.