Cyclist narrowly escapes drowning after being pushed into Manchester canal by 'complete psychopath'
Police dismiss link to rumoured Manchester canal serial killer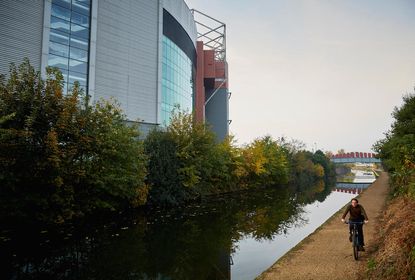 (Image credit: Alamy Stock Photo)
A cyclist says he almost drowned after being attacked by a man he described as "a complete psychopath" on a Manchester canal path while cycling home at night.
The victim, a 34-year-old office worker, says his assailant swung his arm at him, knocking him in to the water and then kicked his hands as he tried to climb out of the canal.
He told police that the assailant made no attempt to steal anything, running away shortly after the incident occurred.
The victim says he almost drowned after his back-pack filled up with water and his legs became entangled with his submerged bike.
The incident took place last Tuesday on the Bridgewater Canal towpath near Old Trafford stadium at around 10pm, but police have dismissed any link to the high number of deaths that have occurred near Manchester's canals, which have fuelled rumours of a 'pusher' serial killer.
The victim was tracked down by the Sunday Times (opens in new tab) and asked not to be identified, but told the newspaper that the attacker had tried to stop him from getting out of the canal.
"He was a complete psychopath," he said. "Even when I went in, he tried to stop me getting back out. He didn't try to steal anything.
"It was 10pm. I was working the late shift and coming home late. I saw a man out of the corner of my eye and he swung his arm and it caught me on my neck.
"I went into the canal along with my bicycle and my backpack on my back, which immediately started filling with water, weighing me down.
"I was underwater with my legs twisted in the bike. I managed to get above water and tried to get a grip on the side of the canal, where it was slippery and mossy. That's when he kicked my hands away, which made me slip back under the water again.
"When I came back up, he was gone. I saw him running away. I managed to get out of the canal. It was pitch black: there are no lights or barriers along that stretch; nothing. My mobile phone wasn't working because I went into the canal. I walked to PureGym in Stretford and called 999."
He described the attacker as a white male, aged 20-40, wearing a black jacket and of average height as well as a "normal" hair style.
"I definitely feel like I'm lucky to be alive," he told the Sunday Times, "I could easily have drowned because of what he did."
Chief Inspector Andy Sutcliffe of Greater Manchester Police stressed that there was currently no evidence of the incident being connected with other deaths in the area, and have yet to trace the attacker.
"The attacker, who we are working to trace, ran away from the scene and the man was fortunately able to get out of the water and raise the alarm," he said.
"I understand, given the circumstances of this report, that people will be alarmed, but I need to stress there is no evidence to suggest that this is linked to any other incidents and we've had no further reports.
"While we are carrying out our inquiries and finding out exactly how and why this happened, our main priority is the wellbeing of the victim, and we need to make sure that his best interests are at the forefront of our investigation."
Thank you for reading 5 articles this month* Join now for unlimited access
Enjoy your first month for just £1 / $1 / €1
*Read 5 free articles per month without a subscription
Join now for unlimited access
Try first month for just £1 / $1 / €1