Why do cyclists say 'chapeau'? - you asked Google, and we've got the answer - plus other French terms of the peloton
The cycling community uses a lot of French words year round, but come Tour de France season it really ramps up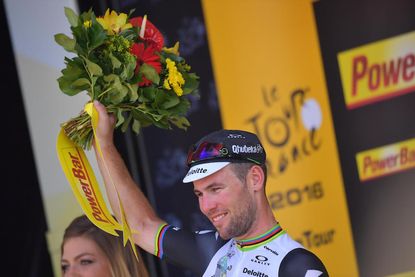 (Image credit: Yuzuru SUNADA)
Google's autocomplete can tell us a lot about what the wider public wants to know about cyclists. Apparently, they're as puzzled about why we say 'chapeau' as they are about how the hell bike rider's pee in a race.
A French lexeme which translates to 'hat', to bestow a 'chapeau' upon another individual is to verbally express the tipping of your cap.
So - it's that simple - we say 'chapeau' when we want to pass on congratulations, well done; it's a shorter (and more audibly pleasing) way of saying 'cor, blimey mate, I certainly couldn't do that'.
Our snail eating friends are in the lucky position of playing host to the greatest bike race race in the world - the three week Tour de France dominates cyclists's TV sets for the month of July and is responsible for drawing in crowds not usually embroiled in a love of two wheels over the rest of the year.
Thus, a lot of French language has slipped into the vocabulary of the peloton - almost to the point we barely notice it. In case any of the other commonly used French phrases, masquerading in the English speaking cyclist's vocabulary as commonplace, are confusing, here's a quick guide...
Allez
The cry that fans shout from the side of the road, typically on a climb. Translated, 'Allez, Allez, Allez!' means 'Go, Go, Go!' - and it must always be uttered with a pint in one hand and a baguette (or a hot dog if you're spectating in the UK at a town centre crit) in the other.
(Also the name of a Specialized model of bike which was the first racing machine owned by 70 per cent of the amateur cycling community, conveniently for Spesh, Allez rings well with aluminium alloy, which is what like this bike is made of.)
Baroudeur
This one means 'warrior' - and it's a term bestowed upon the rider courageous (or stupid - depends how it pans out) enough to breakaway from the peloton, in pursuit of a solo win - and failing that, at least giving us something to write about on a 200+km sprint stage and gaining the opportunity to 'montre le maillot' (get your sponsors on TV).
Chamois
Often said 'chammy' in the UK due to our tendency to massacre pronunciation. Refers to the pad in your cycling shorts, which was once made from goat skin leather.
Directeur Sportif
The person sitting in the team car who is in charge of tactics, typically treating all the cyclists like chess pieces on a board.
Domestique
Nothing to do with ironing your socks, replacing toilet rolls or doing the washing up.
But by the same token, if domestiques stopped doing their oft unreported jobs, all the teams would grind to a halt. These riders protect their team leader, bring them bottles from the team car, and generally sacrifice their own glory for the greater good.
Echelon
A formation used in cross winds, where riders sit slightly to the side of each other instead of directly behind (as per a pace line, which would be preferable in a head wind).
Étape
The stage. So étape 21 will finish on the Champs-Élysées in Paris.
Équipe
A team.
Flamme Rouge
A red flag denoting that there's one kilometre left until the finish line, the flamme rouge haunts the dreams of baroudeur's who want nothing more than to see it come into view with a healthy margin on the chasing bunch.
Grimpeur
A climber.
Grupetto (/Autobus)
The position in which everyone who is not a climber will find themselves in the mountain stages - the last group on the road.
Hors categorie
A climb that is 'beyond categorisation' - read: very long, very steep. Très horrible.
All climbs which play a part in the mountains competition are categorised, from Category four to HC - with the former being the easiest. Rider's attempting to hold the maillot à pois (spotty one) will be motivated to crest an HC climb first as there will be more points on offer.
Lanterne Rouge
Well, someone's got to be last - and being called the 'Lanterne Rouge' at least makes it sound cooler.
La tête de la course
Precisely the opposite - the head of the race, usually on the road (i.e the breakaway).
Maillot jaune
Maillot means jersey - so the 'jaune' variety is the yellow one, worn by the overall la tête de la course.
Peloton
The largest group of riders - anyone off the front is a breakaway, and anyone off the back is in the grupetto, or - less kindly put - dropped.
Puncheur
A rider who specialises in short, punchy climbs - typically someone like this will excel at the Classics.
Rouleur
An all rounder rider, who is usually most at home churning a big old gear on flat roads - will do well in a time trial, but not if it's uphill.
Soigneur
An individual who works tirelessly to ensure that riders are kept fed, watered, and clothed in a clean chamois. Not quite cycling's slaves, but not far off.
Souplesse
Pedalling with such deftness and agility that it can only be commented on in French.
Thank you for reading 10 articles this month* Join now for unlimited access
Enjoy your first month for just £1 / $1 / €1
*Read 5 free articles per month without a subscription
Join now for unlimited access
Try first month for just £1 / $1 / €1
Michelle Arthurs-Brennan is a traditional journalist by trade, having begun her career working for a local newspaper, where highlights included interviewing a very irate Freddie Star (and an even more irate theatre owner), as well as 'the one about the stolen chickens'.
Previous to joining the Cycling Weekly team, Michelle was Editor at Total Women's Cycling. She joined CW as an 'SEO Analyst', but couldn't keep her nose out of journalism and in the spreadsheets, eventually taking on the role of Tech Editor before her latest appointment as Digital Editor.
Michelle is a road racer who also enjoys track riding and the occasional time trial, though dabbles in off-road riding too (either on a mountain bike, or a 'gravel bike'). She is passionate about supporting grassroots women's racing and founded the women's road race team 1904rt.
Michelle is on maternity leave from July 8 2022, until April 2023.