'It makes no sense': Daily Mail survey of drivers' gripes with cyclists criticised by cycling charity
Survey findings in contrast with widespread support for better cycling facilities found by Sustrans poll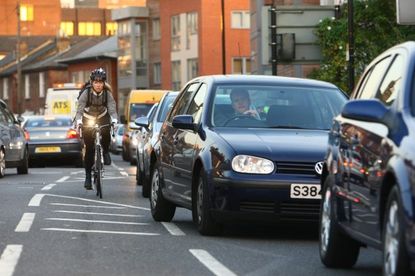 A Daily Mail survey which concluded that cyclists should be made to wear hi-vis and have insurance has been criticised as "making no sense" by national cycling charity Cycling UK.
The online survey of more than 10,000 motorists, which was carried out by motoring campaign group FairFuelUK and promoted through its mailing list, found widespread support for measures such as forcing cyclists to take out insurance, wear high-viz clothing, and face the possibility of prosecution under a new dangerous cycling law.
However Cycling UK has expressed its concerns about the survey, with the ideas proposed likely to make people less willing to travel by bike.
>>> What is the evidence that wearing hi-vis clothing makes you a safer cyclist?
"If we want grandparents and grandchildren alike to be able to cycle safely and normally for day-to-day journeys, it makes no sense to impose unnecessary new rules and costs on would-be cyclists, particularly children," Roger Geffen, Cycling UK's policy director said.
"The top priority must be to create safe, cycle-friendly streets and junctions, while strengthening the enforcement of our existing traffic rules, rather than adding new ones."
The charity also points to the findings of the Sustrans Bike Life report, which gathered data from a cross-section of the general population rather than those signed up to the mailing list of a motoring campaign group, and found huge levels of public support for better cycling facilities and the increased funding to provide them.
Watch: What lights do I need for winter?
The government is currently considering the possibility of introducing a new offence of causing death by dangerous cycling as part of a review into cycling safety launched in the wake of the Charlie Alliston case, who was sentenced to 18 months in prison in September on a charge of "wanton and furious driving" after killing pedestrian Kim Briggs while riding a bike with no front brake.
Geffen said that although the organisation had no objection to the introduction of such offences, which he says would be used just once every five years, it would be a more effective use of parliamentary time to concentrate on harsher penalties for the thousands of drivers who kill or injure cyclists and pedestrians each year, with greater use of driving bans, tougher sentences, and a tightening of the loophole which sees thousand drivers claim "exceptional hardship" to evade driving bans.
>>> Number of motoring offences hit nine-year high as 2.2 million caught speeding in 2016
"Whilst Cycling UK has no objection to the possible introduction of new cycling offences, these changes would do far more to ensure justice in the wake of road traffic crimes that can cause death or serious injury," Geffen continued.
"Meanwhile the single most effective measure for preventing those crimes from occurring in the first place would be to reverse the cuts to roads policing that have occurred over the past decade or so."
Thank you for reading 20 articles this month* Join now for unlimited access
Enjoy your first month for just £1 / $1 / €1
*Read 5 free articles per month without a subscription
Join now for unlimited access
Try first month for just £1 / $1 / €1