Dan Evans scores double hill-climb win as National Championship looms
Men's national hill-climb champion Dan Evans takes two victories on Saturday, as women's champ Maryka Sennema does the same on Sunday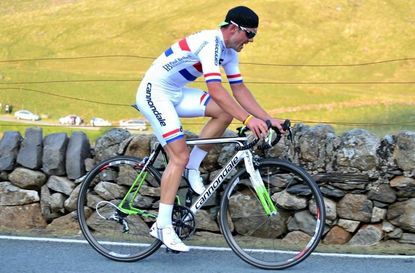 Dan Evans (Cannondale-UK/Team Elite) threw down the gauntlet to his rivals for the National Hill-Climb Championship with a double winning weekend in Yorkshire.
The 34-year-old defending champion won both the Holme Valley Wheelers and Huddersfield Star Wheelers climbs on Saturday, the latter being staged on the same Jackson Bridge course that will be used for the 2015 title race in two weeks.
But Evans didn't have it all his own way, and he was beaten into second spot in the Lancashire Road Club climb of The Rake on Sunday where Lee Baldwin (Champion System) beat him by less than a second.
However, few would bet against Evans not successfully defending his title, having mastered Jackson Bridge on Saturday and beaten several of his rivals for the national title at the same time.
>>> Six of the best British hill-climb events this autumn
Evans was 4.8 seconds faster than hi nearest rival Adam Kenway (SportGrub KUOTA) on the Jackson Bridge climb, with Monsal Head hill-climb winner Joe Clark (Bike Box Alan) third, while former national champions Tejvan Pettinger and Matt Clinton missing out on the podium.
Watch: How does weight affect your climbing speed?
And that afternoon, Evans won the Holme Valley Wheelers climb of Holme Moss by almost ten seconds from Josh Teasdale (Prorace), while Pettinger took third.
Elsewhere, Richard Bussell (RST Sport-Aero Coach) proved victorious in the Catford CC hill-climb on Yorks Hill, winning by more than two seconds from James Lowden (Neon Velo), while Ed Bradbury (NFTO Pro Cycling) took third and reigning national women's champion Maryka Sennema (Paceline RT) was fastest female.
But Lowden went on to pip Bussell to victory in the afternoon's Bec CC climb of White Lane, Titsey, covering the 700 yards 0.6 seconds quicker, while Bradbury was third again and Sennema bagged the women's prize again.
Conditions at the Bec CC event were trickier than in previous years, with a slight headwind and cooler temperatures.
Thank you for reading 10 articles this month* Join now for unlimited access
Enjoy your first month for just £1 / $1 / €1
*Read 5 free articles per month without a subscription
Join now for unlimited access
Try first month for just £1 / $1 / €1