Dani King returns to Revolution after three year absence
London 2012 Olympic champion brings all-star team to Elite Women's Championship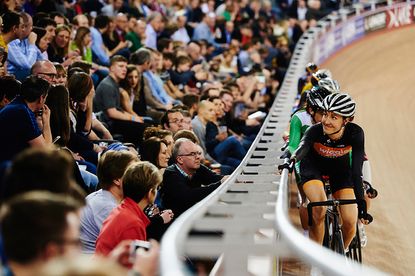 After establishing herself as a World and Olympic champion on the track before forging a career on the road, Dani King is the latest women's WorldTour rider to announce her return to the Revolution arena.
The 26-year-old has signed up to ride all three rounds of the Elite Women's Championship this winter, and she will have some star riders to keep her company.
Joining her team will be both the current and former world scratch race champions Rachele Barbieri and Kirsten Wild – with the trio forming a formidable challenge to the likes of Boels-Dolmans, Team WNT, Matrix Fitness and Storey Racing, among others. Now more known as a road rider, three years away from the packed crowds and electric atmosphere of the Revolution Series has proved ample time for King's track hunger to return.
"I absolutely love Revolution, I've been riding Revolutions for years and years and I just think it's such a fantastic event, it always attracts sell-out crowds," said the 26-year-old.
"It's great to get stuck in, there's not many chances where you get to race each other as GB athletes in front of a home crowd, so that's exciting, everyone's keen to give everyone a kicking."
Having focussed on the road since her last Revolution appearance in 2014, King knows that it will be tough to compete with the likes of fellow Olympic and World champions Katie Archibald and Elinor Barker, who King believes are at the top of the track game. But with plenty of Revolution experience behind her, and both Barbieri – who finished second in the championship last year with the all-star Voxwomen squad – and Wild at her side, King is confident of a positive performance.
"They're some of the best around at the minute, and then the academy girls who ride in Team Breeze and the British team train on the track full time – that's a big advantage when you're on the track day in, day out," she added.
"But then in my team, obviously Kirsten and Rachele are both the sprint types so I think it could work quite well, they will bring the pure, pure speed.
"Plus they're both highly experienced and tactically amazing track riders, so I think it will be fun."
See the world's best road teams take on the champions of the track in the Revolution Track Cycling Series. Tickets on sale at www.cyclingrevolution.com
King began her Revolution adventure as a Future Star before progressing through the ranks and last riding the boards for Wiggle-Honda in 2014. But despite her knowledge and experience, she admitted there will still be nerves on the start-lines in London, Glasgow and Manchester.
"I get nervous every time I race now, ten years on from Future Stars, but now it's a good kind of nervous," she concluded.
"I'd hate to know how many laps I've done round Manchester, but it's such an amazing track and I've only got good memories from there.
"It'll be amazing to come back because I can't even remember the last time I rode there, so I'm definitely going to have to get back on there soon.
"But I'm lucky to live near the track in Newport, so I'll be able to get a little bit of track work in before Revolution starts."
The revolution Series kicks off in London on 25th November 2017.
Thank you for reading 20 articles this month* Join now for unlimited access
Enjoy your first month for just £1 / $1 / €1
*Read 5 free articles per month without a subscription
Join now for unlimited access
Try first month for just £1 / $1 / €1