Fans lend support to Daniel Patten as he still searches for 2017 team
Former Team Wiggins rider Daniel Patten is still actively searching for a team for 2017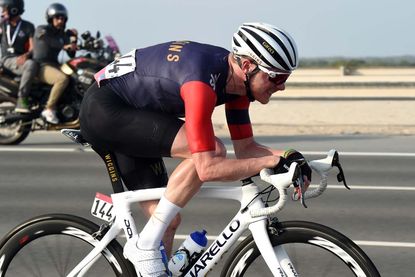 (Image credit: Graham Watson)
Cycling fans are rallying to help British rider Daniel Patten, who has found himself without a team for 2017.
Patten has ridden for Team Wiggins since the 2015 season, but has so far failed to secure a contract for 2017 despite some interest from squads.
"I'd like to express my gratitude to Sir Bradley Wiggins for the opportunity over the last two years," Patten said to Cycling Weekly. "It's been great working with Brad and I've obviously had opportunities to do some amazing races, opportunities I would of course like more of going forward.
The 30-year-old appealed via social media in his hunt for a 2017 ride, and has received plenty of support from his fans, one of whom hailed him as "one of the nicest, approachable, pros you could ever meet".
On November 25, Patten posted on Twitter: "Professional, loyal, selfless, full-hearted, super domestique & nice guy...team-less for 2017!? Please RT & contact with any help".
Patten hinted that he had been in touch with the British One Pro Cycling outfit, but that it hadn't come to anything. "One Pro Cycling have been very responsive to my enquiries. Unfortunately (for me) but understandably, their roster is full," he said.
Like many riders who play a team support role, he sacrifices his own results for the benefit of the lead rider – despite all of the hard work, that means he has little return for his palmares.
With the 2017 season rapidly approaching, Patten is still searching and continuing to train hard, and thanked his fans for all of the messages: "A lot of support has come through Instagram and Twitter, something again I'm extremely grateful for."
Patten can be contacted via his Twitter or Instagram accounts.
Thank you for reading 5 articles this month* Join now for unlimited access
Enjoy your first month for just £1 / $1 / €1
*Read 5 free articles per month without a subscription
Join now for unlimited access
Try first month for just £1 / $1 / €1