Dashcam captures shocking collision between cyclist and turning van in Manchester (video)
A dashboard camera captured the moment a cyclist and a van collide at a busy junction in Manchester this week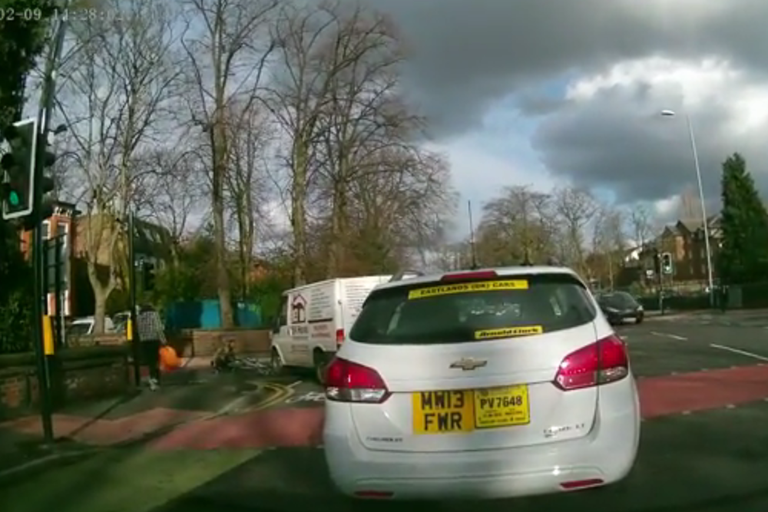 Dashcam footage has captured the moment a young woman collides with a van on a main road in Withington, Manchester.
The footage shows a woman on a bike cycling along in the segregated bike lane as the traffic lights ahead of her turn green.
At the same time as she attempts to cycle straight across the junction, the van turns left and the two collide, with the woman falling to the floor. The woman, who appears unhurt, gets up and indicates to the driver to reverse so she can retrieve her bike.
The incident happened just before 11.30am on Tuesday and was filmed by Michael Macdonald, who films all of his car journeys for insurance purposes.
Macdonald, a 25-year-old recruitment specialist who lives in Withington, told the Manchester Evening News: "I couldn't believe it when I saw what happened. I thought the woman would be badly injured considering the force of the crash.
"But luckily just after she was back up and seemed OK. I rushed out to make sure, and she asked the van driver whether he could 'get off her bike'.
>>> New debate over who's to blame as cyclist and pedestrian collide (video)
"Whether he was indicating before he turned I really don't know – but the woman was calm and they were polite with each other. She certainly didn't seem to be blaming him."
He added: "It's certainly one of the most shocking incidents I have seen. Thankfully the woman was OK. When we all stopped there was a police car around the corner so they got everyone's details."