David Millar launches his own cycling tours
The nine-time Grand Tour stage winner will ride with clients on his new cycling tours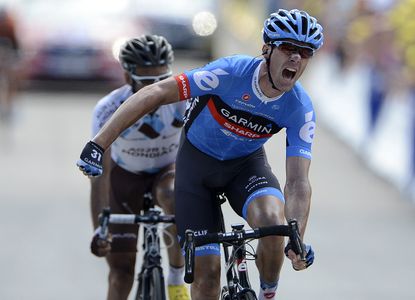 (Image credit: Graham Watson)
David Millar has teamed up with Velocamps to create his own cycling tours, offering the chance for up to 25 riders to ride with him in iconic destinations.
Described as "premium tours", riders will be able to ride with four-time Tour de France stage winner Millar, dine with him and get to know the Scotsman.
There are three trips planned for 2016, and more opportunites promised in 2017.
The first of the trips is to the Côte d'Azur on the French Riviera in April, where the riders will ride Col de la Madone and be based in a luxurious Spa hotel with its own private beach.
>>> La Madone: Tour contenders' favourite testing ground
Offering trips in the three Grand Tour countries, the second trip is a Tour of Lombardy in May, the highlight of which will be riding Giro d'Italia climbs.
The final trip of 2016 sees a Tour of Catalonia, which will feature the French and Spanish Pyrenees.
Millar said: "I'm really excited to have partnered with Velocamps to create something new in cycling for those who share the same passion as me.
"For 2016 we have three fantastic tours planned in locations I have trained, raced and lived in. I'm looking forward to sharing the experience with cycling fans in a way I've never done before."
James Pybus from Velocamps said: "David is well known to cycling fans having had a long and successful racing career, written a best selling book and a now respected TV pundit. Cycling alongside him on iconic and picturesque roads, and picking his brains over dinner is something any cycling fan will love."
However, riding with the British cycling legend doesn't come cheap: prices for all trips are £1,575, and that doesn't include flights, lunch time meals, insurances and any drinks.
Thank you for reading 5 articles this month* Join now for unlimited access
Enjoy your first month for just £1 / $1 / €1
*Read 5 free articles per month without a subscription
Join now for unlimited access
Try first month for just £1 / $1 / €1