DAWSON TAKES FIRST WIN IN 2008 RUDY PROJECT SERIES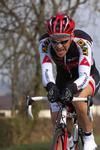 AFTER one South Yorkshire veteran won the previous round, Kevin Dawson followed on from Wayne Randle when he took victory in the third round at Great Limber, Lincolnshire, on Saturday.
Dawson, now riding for the Sportscover team after leaving Pinarello RT, clocked 53min 31sec for the 23.6-mile event organised by Brocklesby Cycling Club.
The reigning British Best All-Rounder, Dawson has stepped back from the high-level training and competing he used to do after becoming a father last year.
But he has lost none of his class and took victory by 12 seconds on Saturday from KB Cycles RT rider Dominic Munnelly, while reigning series champion and National 100-mile champion Richard Prebble took third spot with 53-58.
?I was really pleased with my ride,? he said afterwards. ?I had food poisoning for the first round [where he was sixth], and I don?t think I was fully recovered for the second round. Plus, the courses used for the series are a bit up and down. It?s not like sitting on a drag strip course, and takes some getting used to.?
Meanwhile, Michelle Brown (Wyre Forest CRC) was fastest of the women, while the juniors prize went to Richard Handley (Maxgear RT).
More on the Rudy Project Series in this week?s Cycling Weekly.
Rudy Project Time Trial Series (Great Limber, Lincolnshire).-
1 Kevin Dawson (Sportscover) 53-31
2 Dominic Munnelly (KB Cycles RT) 53-43
3 Richard Prebble (GS Strada) 53-58
4 Ashley Brown (Sportscover) 54-18
5 Julian Ramsbottom (De Rosa RT) 54-29
6 John Tuckett (AW Cycles) 54-56
Espoirs.- Richard Meadows (Pezula Racing) 55-20. Women.- Michelle Brown (Wye Forest CRC) 1-01-31.
Thank you for reading 20 articles this month* Join now for unlimited access
Enjoy your first month for just £1 / $1 / €1
*Read 5 free articles per month without a subscription
Join now for unlimited access
Try first month for just £1 / $1 / €1