Day 1: A day in the life of a CW model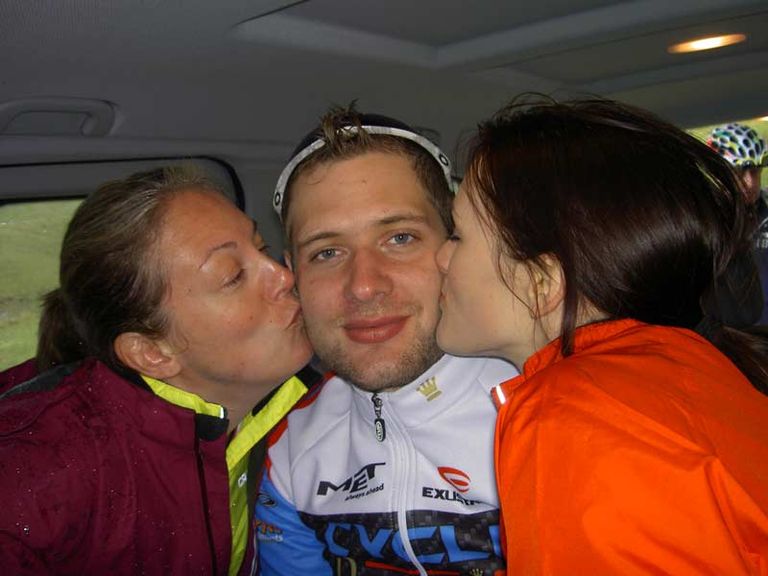 We had a great group of riders out with us to make appearances on the
mag covers, and on its inside pages, including downhill rider Christian Fairclough, Cycle Premier's James Millard, MaxGear's Rohan Battison, triathlete Jo Smith and VCL's James Solly.
They joined the CW team of myself, Art ed Dan Baines, Fitness ed Hannah Reynolds and
photographers Roo Fowler and Chris Catchpole. We had the models, the
photographers, plenty of biscuits and the backdrop of the Pyrenees
provided the rest. 


Emotional over Wiggo's journey CW's Dan refuses his cornflakes


DH'er Christian Fairclough tries to blend in with the roadies but the sock height is a dead giveaway
We hit the mountains on the first morning where the weather left something to be desired. In between shots, we resorted to a bike bag for warmth, where we dodged the virtual monsoon and munched sarnies. Glam all the way so far!


3 girls in a bike bag...resourceful
It's day one in the Pyrenees where we're out to shoot riding shots for the mag and the weather's idyllic.
Our hosts at Thuy based Allons y Pyrenees, Keren and Chris welcome us with open arms to their stunning accommodation and we enjoy a hearty breakfast before living the glamorous lives of models. Well, it's all true up until that last point anyway...
Photographer Chris is very proud of his sandwich


Business as usual for Cycle Premier's James Millard
Turns out it was tan time at ground level so we opted for some splashing around in the endless resistance pool...which needless to say we cranked up to max and things turned pretty competitive. We concluded it's just like a turbo trainer but much more fun - the jury's still out on the winner.
We rounded off the day with a superb three course meal cooked by Keren and Chris, complimented by several glasses of local wine - the rest is a blur...who said life as a model was easy?


So where's the nearest Starbucks?


The cover models after a heavy night out
After fighting a plucky fleet of donkeys for our lunch, not to mention a tough day of posing in the rain we made our way back to the house where we found a stark contrast to the weather on the mountain tops.