'Do cyclists have to ride on the road?' - you asked Google, and we've got the answer
Google autocomplete tells us this is one of the burning questions the world wants to ask - so we've brought the answers...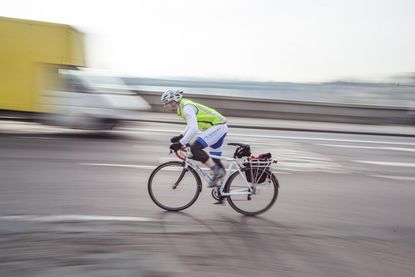 (Image credit: Chris Catchpole)
It's incredible how much you can learn about the world's thought processes from a simple Google Autocomplete. When it comes to 'do cyclists', the number one question is apparently 'do cyclist have to ride on the road?'
The dominant search engine's autocomplete service offers suggestions as to what you might be searching for, and it says these suggestions come from "what other people are searching for." This is backed up by font of knowledge 'searchengineland.com', who explain: 'the suggestions that Google offers all come from how people actually search."
Also in this series:
In the interest of answering the question, we've sifted through the tomes of the Highway Code and other resources to bring you the answers.
Do cyclists have to ride on the road?
Taken at face value, the question would be answered by 'no' - no cyclist has to ride on the road. A rider could choose instead to use exclusively trails, or in some areas it may be possible to use only dedicated cycle tracks instead.
Cyclists looking to build up a route using as many cycle tracks or trails as possible may want to check out a map of the National Cycling Network. The Cycle Streets Route Planner also lets you plan a ride from A to B, using cycle tracks where possible and selecting the quietest roads.
However, across the vast majority of the country a cyclist would need to combine trails or cycle paths with the road as most cycle tracks and trails are broken and will cease to be at some point.
Judging by the common theme of this question's results (as selected by Google, which will put the most relevant and clicked on first) it's more than likely that the actual query is 'must cyclists use the road instead of the pavement'?
Can cyclists ride on the pavement?
The highway code itself doesn't actually refer to pavements - rather footpaths, footways, cycle tracks and cycle lanes.
However, to clarify the web of information, Gov.uk determines that cyclists must not cycle on what most of us would refer to as 'pavements'.
The highway code articles it uses to come to this conclusion are 'HA [Highways Act] 1835 sect 72' and 'R(S)A [Roads (Scotland) Act sect 129'.
The first refers to a "penalty on persons committing nuisances by riding on footpaths"... "or causeway by the side of any road made or set apart for the use or accommodation of foot passengers".
The second states that "in a footway, footpath or cycle track, as the case may be drives, [any person who] rides, leads or propels a vehicle or horse, or any swine or cattle, commits an offence" - an exception being made a pedal cycle "which is either not being ridden or is being ridden on a cycle track."
All of this applies to children - but those under the age of 10 (or eight in Scotland) are below the age of criminal responsibility so can't be prosecuted.
Cyclists can receive a Fixed Penalty Notice (FPN) for riding on the footpath - but when these were introduced in 1999 the Home Office Minister Paul Boateng added guidance, saying that: "The introduction of the fixed penalty is not aimed at responsible cyclists who sometimes feel obliged to use the pavement out of fear of traffic and who show consideration to other pavement users when doing so.
"Chief Police Officers who are responsible for enforcement, acknowledge that many cyclists, particularly children and young people, are afraid to cycle on the road, sensitivity and careful use of police discretion is required".
This caveat was reinforced in 2014 by Cycling Minister at the time, Robert Goodwill - he said: "I agree that the police should be using discretion in enforcing this law and would support Paul Boateng's original guidance."
He added that the matter should be brought to the attention of the Association of Chief Police Officers - which it was - and they advised "discretion in taking a reasonable and proportionate approach, with safety being a guiding principle".
Providing some context to the decision to exercise discretion, a Freedom of Information request made by Cycling UK (then the CTC) showed that between 1998 and 2007 just two per cent of pedestrians injured or killed on the footway involved cycles - whilst 58 per cent (and 37 deaths) involved cars on the footway.
More recently, in January 2017 Camden Police said they would not fine cyclists choosing the pavement over the road; instead they would ask cyclists why they were choosing the pavement in an attempt to understand fears riders might have around the road.
Do cyclists have to use the cycle lane?
Many roads (carriageways) feature a cycle lane - a space marked my a white line along the carriageway.
The Highway Code makes it very clear that cyclists are not duty bound to use these - stating in its 'rules for cyclists' section 59 to 82 "use of cycle lanes is not compulsory and will depend on your experience and skills, but they can make your journey safer".
It does add guidelines for how to use cycle lanes safely if you choose to do so: "keep within the lane when practicable. When leaving a cycle lane check before pulling out that it is safe to do so and signal your intention clearly to other road users."
There are very real situations in which a cyclist would reasonably choose not to use the cycle lane.
For example, if it were poorly maintained, strewn with glass and debris, or if there were cars illegally parked in it causing the rider to have to dodge in and out of vehicles - potentially putting themselves in danger.
Do cyclists have to use cycle tracks?
Different to cycle lanes, 'cycle tracks' are usually located away from the road - sometimes along footpaths and indeed pavements. These are often shared use - though sometimes with segregated areas for bicycles and for users on foot.
Again, cyclists do not have to use cycle tracks - but if they choose to use one and it is segregated they must not use the section marked for pedestrians: "When using segregated tracks you must keep to the side intended for cyclists as the pedestrian side remains a pavement or footpath."
Again, there are many valid reasons for not using a cycle track. For example, it may suddenly come to an end resulting in inconvenience or indeed danger. Where it's a shared use area, pedestrians may also be using the track and cyclists may feel their journey would be safer and more direct on the road.
The simple answer...
Cyclists do not have to ride on the road - it may be possible to construct a journey entirely from cycle tracks or trails. However, in the process of getting from A to B most will find it necessary to use the road at times.
Cyclists are not meant to ride on footpaths or sections reserved for the passage of people on foot. Police can issue a Fixed Penalty Notice to cyclists who do so - but they are advised to use discretion. In the past cyclist have been responsible for just two per cent of injuries to pedestrians on the footpath - so statistically it's unlikely they pose the greatest danger.
It is not compulsory for cyclists to use a cycle lane or cycle tracks - but if using a cycle track, it is compulsory to stay out of the pedestrian area if its segregated.
Thank you for reading 20 articles this month* Join now for unlimited access
Enjoy your first month for just £1 / $1 / €1
*Read 5 free articles per month without a subscription
Join now for unlimited access
Try first month for just £1 / $1 / €1